The 37th National Information Technology Conference (NITC), organised by Computer Society of Sri Lanka (CSSL), will be held on October 8, 9 and 10, at the Shangri-la Hotel, Colombo, during the National ICT Week this year.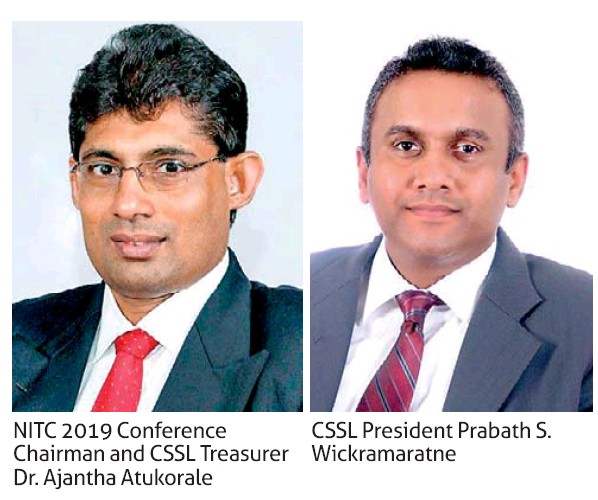 The Ministry of Digital Infrastructure and Information Technology recently announced the National ICT Week for October 2019, and a series of ICT events have been lined up by various industry stakeholders to mark the National ICT week.
NITC 2019, with the timely theme "Embrace Digital", will be the national platform to deliberate latest developments, trends, challenges of the digital era and thousands of ICT professionals and practitioners are expected to gather at the longest standing and undoubtedly the largest gathering in the country.
NITC 2019 has a line up of more than 30 deliberate international and local speakers under the tracks of AI and IOT, Embrace Digital, Digital Media and Digital Safety, Infosec, Digital Innovation, Digital Economy, Digital Payments and Digital Infrastructure.
NITC 2019 also features annual colloquium track in which more than 20 research papers which were short-listed after a rigorous double-blind review process will be presented by prominent local and international researchers on the third day of the conference.
All papers presented at the NITC are recognised and sponsored by IEEE of USA and all research publications will subsequently be available on the IEEE Xplore Digital Library.
Digital Infrastructure and Information Technology Minister Ajith P. Perera will be the chief guest of the inauguration of NITC 2019 on October 8, 2019.
ICTA Chairman Prof. Rohan Samarajiva and few other prominent personalities will be Keynote speakers at the inauguration. One of them is Ivar Tallo, Co-author of the Basic Principles of Information Policy of Estonia, who will be delivering a Keynote at the inauguration and on the second day of the conference.
Minister Ajith P. Perera said: "Rapid digital transformation is a key need of any country to stay ahead in today's globally competitive world and Sri Lanka has to be more proactive in national digital policy-making and adaption and promotion of digital technology in all spheres of the society. I value the contribution by the Computer Society of Sri Lanka to this national endeavour to promote embracing digital by all citizens in Sri Lanka during the ICT week."
Conference Chairman Dr. Ajantha Atukorale highlighted that the NITC 2019 will be supported by Ministry of Digital Infrastructure and Information Technology, ICT Agency of Sri Lanka (ICTA), IEEE, IFIP and sponsored by HP, NIBM, Mobitel, Cryptogen, and Lankapay.