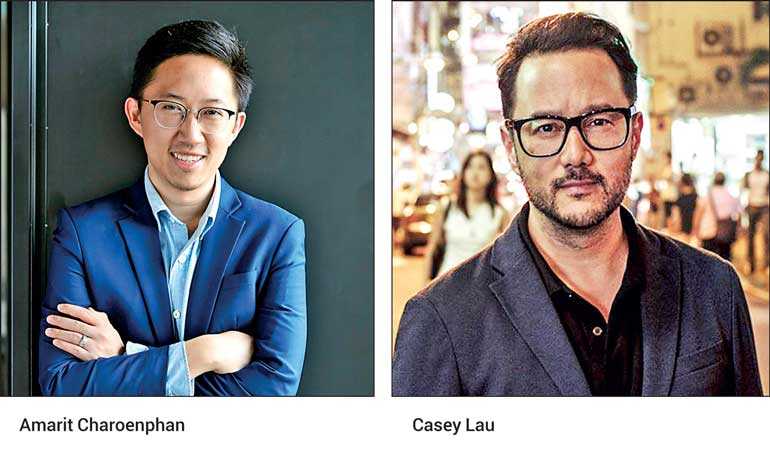 Since 2016, Disrupt Asia has served as an iconic flagship event for celebrating entrepreneurship and the Sri Lankan startup ecosystem.
The conference and festival has continued to grow in stature and influence yearly, attracting innovation luminaries and disruptors, business leaders, renowned entrepreneurs and international companies providing guidance on how to achieve change, helping local startups connect with communities across industries and empowering organisations of all sizes and sectors to leverage the power of entrepreneurship.
This year too, Disrupt Asia 2019 promises to be inspiring, insightful and unmissable. The presence of two visionary, vibrant keynote speakers delivering powerful new ideas together with all other panellists and speakers, who are integral to the Conference, provides the perfect opportunity to discuss the potential of technology, as well as the challenges it presents to society and the future, exemplifying the spirit, ingenuity, and entrepreneurial drive that Disrupt Asia 2019 cultivates.
The opening keynote address by one of Hong Kong's tech start-up pioneers, Casie Lau holds the promise of riveting discussions, inspiring startups and those aspiring to move to action.
While connecting people and businesses and advising on business plans, engaging in pitch presentations and sharing a holistic look at startups around the world are his strong suits he says, "There is tremendous growth taking place in startups everywhere. Startups are revitalising traditional industry sectors through the application of technology, while at the same time beginning conversations about scaling innovations. While startups are already pushing the envelope in developing new technology, they also support in targeting, improving and transforming the lives of thousands of lives making a positive social impact in the world."
Amarit (Aim) Charoenphan as CEO and Co-founder of HUBBA, Thailand's first and largest co-working space and community will motivate and encourage the audience during his closing address leaving them energised and believing they can. He says, "When you stop believing in yourself, when you lose the passion for your mission and you stop trying to innovate and solve problems, you're startup is dead. Keep your eyes on the prize, keep walking and don't doubt yourself and you will make something out of the experience, no matter if you're successful or failure."
Contributing to this year's Disrupt Asia 2019, onboard as the Gold Partner; Visa Country Manager Sri Lanka and Maldives Anthony Watson says, "As perhaps the world's first fintech itself, at Visa we are excited about the tremendous potential in the booming startup ecosystem in Sri Lanka. ICTA and Disrupt Asia in particular provide fintechs in Sri Lanka a great opportunity to connect with the Visa team for numerous opportunities that the world's largest payment network offers. At Disrupt Asia, we look forward to engaging and collaborating with Sri Lanka's finest fintechs exploring mutually beneficial partnerships for the future."
GIZ has been working to promote progress in many sectors supporting environment and sustainable economic development, in addition to small and medium enterprises (SMEs) as well as startups.
Partnering with Disrupt Asia for the second year, Ambassador Jörn Rohde comments, "In today's digital age Sri Lanka's prosperity and future economic competitiveness is inherently linked to its IT sector and in particular to the young and thriving start-up scene. Disrupt Asia has been, and continues to be, an inspiration for many entrepreneurs both in the local and regional start-up ecosystems. Germany is thrilled to be working with ICTA to drive this change as the innovation partner of the Disrupt Asia conference for the second consecutive year."
As a platform that aims to connect investors to the next generation of entrepreneurs, Seedstars is recognised for traveling across continents enabling vast opportunities for emerging ecosystems. Participating in this year's edition of the Disrupt Asia conference, Seedstars aims to promote local startup towards global recognition.
"For the last five years Seedstars has enjoyed a great relationship with the Sri Lankan ecosystem; from highlighting its startups at the highest levels of our global competition to working with a diverse group of incredible local partners. We are incredibly excited to extend the engagement this year too supporting Disrupt Asia and its top startups. Working with Disrupt Asia will allow us to do more of two things that we are passionate about: firstly, working more closely with more inspiring entrepreneurs from the Sri Lanka ecosystem to increase their investment readiness, and secondly, to introduce an additional startup from Sri Lanka to our regional network at our Regional Summit in Cambodia from 27-29 November," noted Seedstars Regional Manager for Asia Rosie Keller.
Disrupt Asia 2019 is endorsed by the Ministry of Digital Infrastructure and Information Technology and is supported by several partners. These include: Visa (Gold Partner), Deutsche Gesellschaft für Internationale Zusammenarbeit (GIZ) GmbH (Innovation Partner), Crowdisland, DirectPay and Hatch (Ecosystem Partners), Bhasha Lanka (Mobile Solution Partner), AngelHack, Startup Accelerator by PWC Sri Lanka, Seedstars and STARTUPRIGHT (Knowledge Partners), AWS Activate (Cloud Partner), Ath Pavura and CITRA (Social Innovation Partners), Extreme SEO (Creative Video Partner), Dialog (Broadband Partner), Dialog Television (Pay TV Partner), ShoutOUT (Messaging Partner), Echelon (Magazine Partner), PayHere (Payment Partner), Emerging Media (Digital Signage Partner), ReadMe (Digital Content Partner), Gudppl (Volunteer Partner), PickMe (Mobility Partner), Cinnamon Hotels and Walkers Tours (Hospitality and Travel Partner), Sujan Images and JohnKeellsX (Support Partners).
Sourced by : www.ft.lk