Information and Communication Technology Agency of Sri Lanka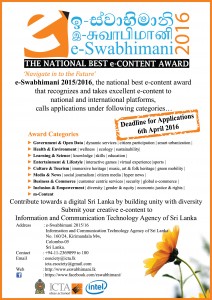 The Information and Communication Technology Agency of Sri Lanka (ICTA), the apex ICT institution of the Government functioning under the Ministry of Telecommunication and Digital Infrastructure, has been mandated to take all necessary measures to implement the Government's Policy and Action Plan in relation to ICT.
ICTA recognizes the fact that the disparities in accessing information communication technologies that exist in our society today stems not only from inadequate infrastructure but also from the lack of content. The design and development of good quality content and applications require creative imagination and engineering knowhow as well as financial resources. Through the e-Society Programme, ICTA has initiated a large number of projects some of which have been recognized through international awards. All these projects have addressed the needs of disadvantaged communities and have strived to create content and applications that would impact on the everyday lives of people.  In order to maintain this heightened interest on content development, as well as to create awareness amongst the general public, ICTA has initiated the e-Swabhimani-National Best Content Award.
The e-Swabhimani Award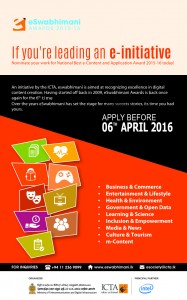 The e-Swabhimani is an initiative of the Information and Communication Technology Agency of Sri Lanka aimed at recognizing excellence in digital content creation. It is expected that this national award would stimulate a greater interest in the development of a wide range of content and services that would serve the needs of society.
The e-Swabhimani Award process is being conducted along the lines of the World Summit Award and has input from the Digital Empowerment Foundation of India as the Knowledge Partner to ensure that the jury procedure conforms to international standards. The award is a stepping stone to other regional and international awards with all short listed submissions being nominated to the Manthan Award, South Asia.
Eligibility
Sri Lankan citizens (individuals) and organizations who have developed innovative content and practices in using ICT (any electronic device, it could be mobile, radio, camera, TV, Computer, or any social networking site or beyond it, having mass reach) for governance, rural businesses, inclusion, health, education, culture & heritage, news and media, environment etc.
Benefits
    Local and international recognition
    Nomination of shortlisted content for the Manthan Award, South Asia.
    Best innovations to represent Sri Lanka & South Asia at the Word Summit Award and other international awards.
    Opportunity to network, to create business alliances and collaboration amongst participating Companies, Governments and NGOs.
    Platform for benchmarking products and services
    Exposure to investment opportunities and investors
Winners of the e-Swabhimani, will receive e-Swabhimani trophy and the rights to use the award logo, while securing opportunities to promote winning products/content at all local and regional events. In addition, ICTA will promote the winning products/content by publishing the product/ content details through e-Swabhimani web and e-Swabhmani Book.
 Evaluation of Content
The applications and the content that fulfill the set criteria conforming with the rules and regulation of the e-Swabhimani programme, will be evaluated mainly under two broad criteria, namely technical aspects which evaluate the content,  interface, interactivity,  design & technical realization, degree of innovation and social impact and the strategic aspects which evaluates  the innovation and creativity.
Content evaluations are to be carried out in two phases; Online Jury and Grand Jury. Phase I is an online Jury which shortlist the content for Grand Jury. An independent team of qualified national and international Jurors will be involved in both evaluations to ensure selection/ nomination of excellent content for the awards.
e-Swabhimani 2015/2016
"e-Swabhimani" the National Best e-Content Award, that recognizes and takes the excellent e-content to National and International platforms, launched for the year 2015 by calling applications/ submissions in October, 2015 and the deadline for applications has been set for the 6th of April 2016.   The Grand jury evaluation is expected to take place by the end of-April 2016 concluding with the Gala event towards June, 2016. Last year's programme had attracted over 250 submissions.
Award Categories
1. Government & Open Data
| Dynamic services | citizen participation | smart urbanization |
2. Health & Environment
| Wellness | ecology | sustainability|
3. Learning & Science
| Knowledge | skills | education |
4. Entertainment & Lifestyle
| Interactive games | virtual experience |sports |
5. Culture & Tourism
| Immersive heritage | music, art & folk heritage | green mobility |
6. Media & News
| Social journalism | citizen media | hyper news |
7. Business & Commerce
| Customer centric services | security | global e-commerce |
8. Inclusion & Empowerment
| Diversity | gender & equity | economic justice & rights |
9. m-Content
To apply and for further information
Sri Lankan citizens and organizations are invited to contribute towards a digital Sri Lanka by submitting innovative and creative e-content to e-Swabhimani Programme 2015/2016.
Contact        e-Swabhimani
ICT Agency of Sri Lanka
No. 160/24, Kirimandala Mw., Col-5
Sri Lanka
+94-11-2369099 to 100
Web        : https://www.eswabhimani.lk
Email        : esociety@icta.lk
icta.esociety@gmail.com
Facebook    : https://www.facebook.com/eswabhimani/
Deadline for Application Submission: 6th April 2016