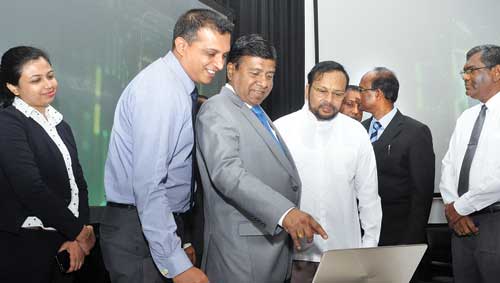 In keeping with the University Grants Commission's (UGC) stand of zero tolerance of all forms of violence, the UGC, in collaboration with the Information & Communication Technology Agency of Sri Lanka (ICTA), has developed a mobile application – "Emergency Safety App," for university students and staff to be used in emergency situations of violence, including ragging and Sexual and Gender Based Violence (SGBV).
The "Emergency Safety" mobile application, has launched on 6th of June, at the UGC auditorium, under the patronage of Higher Education and Cultural Affairs Minister Dr. Wijeyadasa Rajapaksa as the chief guest and Higher Education and Cultural Affairs State Minister Mohan Lal Grero as the Guest of Honour. Chairman of UGC – Prof. Mohan De Silva, Chief Executive Officer of ICTA – Mr. Damith Hettihewa, Vice Chancellors, Deputy Vice-Chancellors, and Registrars, Deans of all universities, Rectors of three campuses and other officials of ICTA and university staff participated for the event
With the "Emergency Safety" mobile application, universities are now able take another step forward towards the global digital society and become part of it while catering a major need within the university environment. ICTA has joined hands with UGC for the development of "Emergency Safety" Mobile application to achieve the broad objective through the application that is to develop a mobile application to be used in emergency situations at universities, with a simple, user-friendly design. With the launch of the mobile application, both UGC and ICTA aims to enforce and encourage efficient use of technology in handling emergency matters, safer university environment and most importantly satisfied students and overall citizens through the successful operationalization of the application.
Further, ICTA continuously working on the government digitization initiatives in a very rapid phase and has already completed more than 50 service delivery and infrastructure development projects to citizens so far,  actioning the directives of the government to improve and enhance the service delivery online.