Moves to provide internet facilities islandwide will benefit all, especially the youth who will be able to follow online courses, said State Minister of Defence, Ruwan Wijewardene who was instrumental in initiating the Memorandum of Understanding (MoU) signed on Tuesday (28th of July 2015), between Google and the Government of Sri Lankan, at Temple Trees.
The MoU is for the launch of Google's brainchild, 'Project Loon', in the country. Mr Wijewardene said it was following a chance encounter with former Facebook executive and Chairman of LotusFlare, a mobile content provider, Chamath Palihapitiya who was visiting Sri Lanka, that they planned to bring down Loons to the country.
"During our meeting we discussed the possibility of bringing down Google Loons to Sri Lanka and its advantages. When Sri Lanka has total internet accessibility it will benefit all," he said. He said that only 10% of the youth enter State-run universities and 20% pursue higher education in the private sector, while a large percentage drop out for want of opportunities.
Mr Wijewardena said, later he was able to talk to the President and the Prime Minister who also pledged their support for the project, as it directly relates to the Government's free Wi-Fi programme. "The project is a step towards realizing this dream and will empower youth with opportunities at their fingertips," he added.
Internet service reaches a part of Sri Lanka, yet the country cannot boast about its far-reaching accessibility, as a considerable number is still deprived of connectivity to the global system, which the United Nations declared "a human right" in 2011.
This group that does not come under the umbrella of internet coverage, sadly, is the one that could benefit immensely in its economic growth and its sustainability.
The MoU was signed for Google by Vice President and Project Leader of Google[x] Project Loon, Mike Cassidy, whose presence made the event even more significant. Sri Lanka was represented by the Information and Communication Technology Agency of Sri Lanka (ICTA).
Loons are balloons equipped with hardware that will distribute Long Term Evolution (LTE), which is a 4G wireless broadband technology, back to earth, and from balloon to balloon. A total of 15 loons, each covering 60-70 square meters, will be released to the sky to an altitude of about 20 km, which is twice as high as airplanes fly. A balloon will be 15 metres across and 12 metres tall, and will carry a small box weighing about 10 gm containing the technology.
Every 90-100 days the loons will be brought down to Google's four landing centres for maintenance, or if it needs to be replaced. The sole objective of the Loon Project is to launch sufficient balloons to give total and uninterrupted worldwide internet service at low or no cost.
"In our system we use LTE which is a common protocol most telcos use worldwide. So, anyone with a smart phone would be able to access the internet. One of the key things we do is to partner local telcos. In New Zealand we partnered with Vodafone," Google's Mr. Cassidy said.
A project trial will take place in December this year and the country will have total internet accessibility in 18 months to two years. ICTA CEO Muhunthan Canagey, Highways and Investment Promotion Deputy Minister Eran Wickramaratna, Foreign Affairs and Telecom Minister Mangala Samaraweera, Economic Affairs Deputy Minister Dr. Harsha de Siva joined Mr Wijewardene and Mr Cassidy at the signing of the MoU.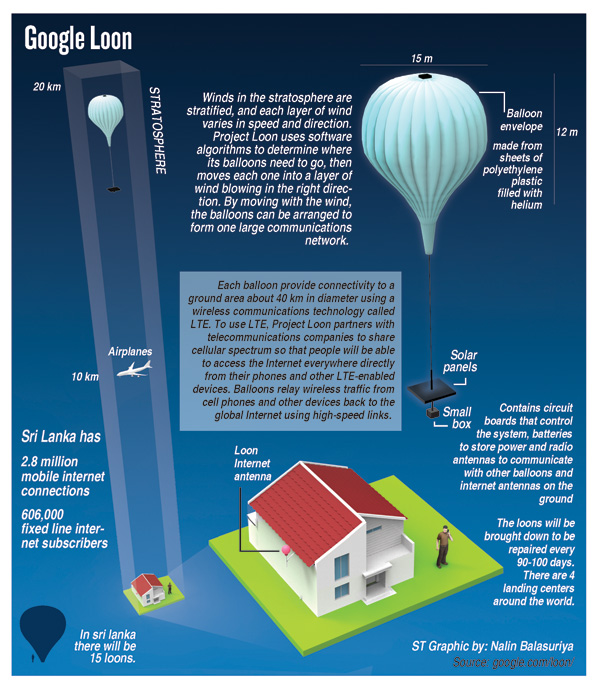 Sourced By : www.sundaytimes.lk