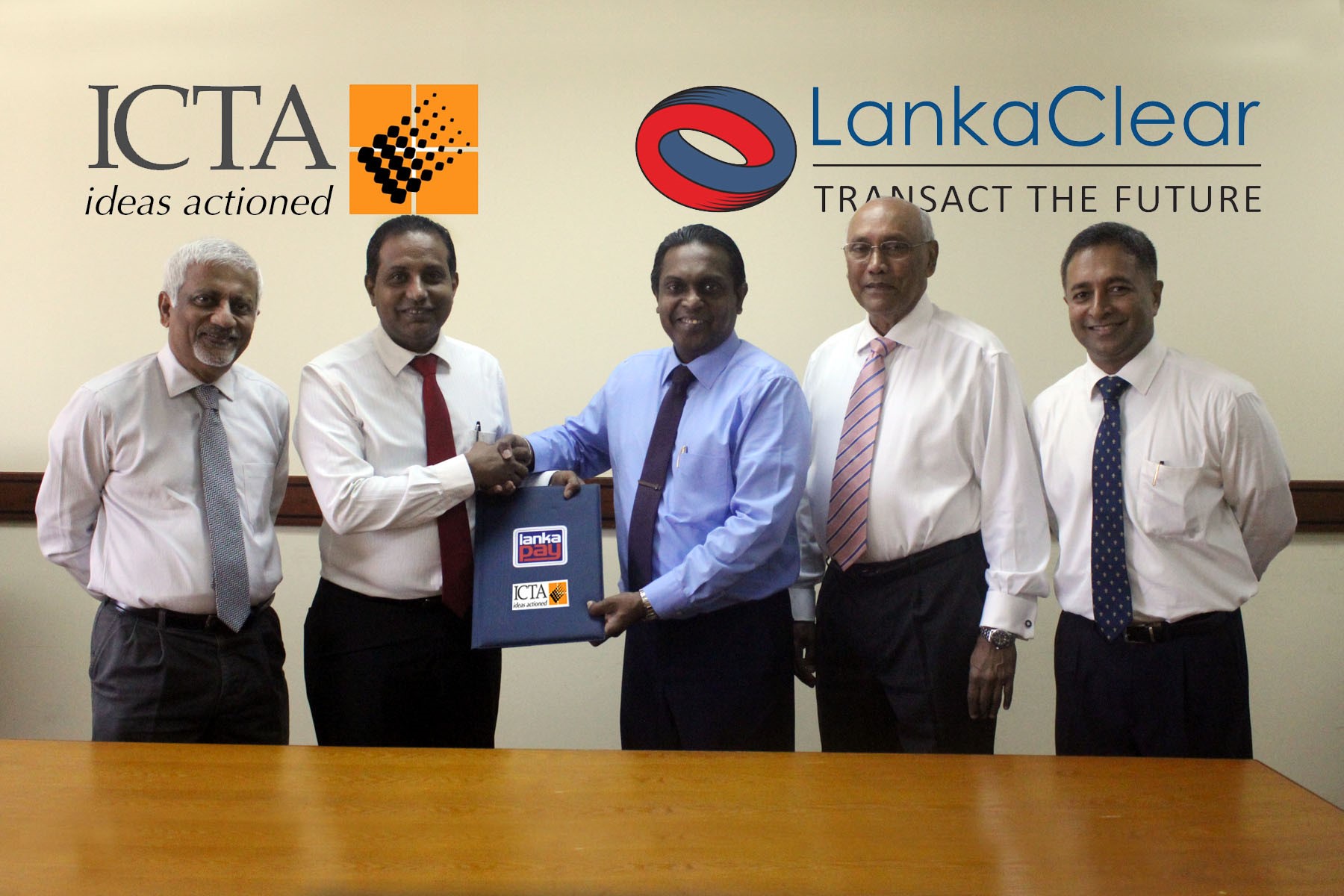 Information and Communication Technology Agency of Sri Lanka (ICTA) and LankaClear Ltd. (LCPL) recently signed a ground-breaking agreement, which will result in greater convenience for Sri Lankan citizens to make online payments towards Government services. Under this new agreement, two existing systems would be integrated to enable citizens to make online payments utilising their current and savings (CASA) accounts.
ICTA is the National Digital Transformation Agency gazetted under Ministry Digital Infrastructure and Information Technology and LankaClear Ltd. is the operator of LankaPay National Payment network, which functions under the guidance and supervision of the Central Bank of Sri Lanka (CBSL). This is a significant step forward in digital payments in the country and put all issues regarding the controversial National Payment Platform (NPP) to rest.
ICTA CEO Damith Hettihewa and LankaClear General Manager/CEO Channa de Silva signed the agreement on behalf of their respective organisations while ICTA Chairman Professor Rohan Samarajiva and Sri Lanka Banks' Association Secretary General Ravi de Silva represented the Board of Directors of LankaClear and joined the occasion of signing. This agreement and the way forward to facilitate future online payments via this new initiative has been cleared and approved by the Central Bank of Sri Lanka (CBSL), which is a major breakthrough for the country. Minister of Digital Infrastructure and Information Technology Ajith P. Perera welcomed the signing of this agreement as the first step for extending a greater convenience to the public. The Minister, while applauding the initiative, stated that enabling online payments for Government services from individual bank accounts will expand the digital payments landscape of Sri Lanka and requested the two organisations to implement this initiative expeditiously in order to make Sri Lanka a digitally advanced and empowered nation.
ICTA currently facilitates online payments for certain eGovernment services using credit cards through its Lanka Government Payment Service (LGPS), which is an interface implemented by ICTA to facilitate online payments for Government organisations. LGPS aspires to offer multiple payment options to individuals and currently facilitates payments through international credit card schemes and mobile phone based e-money wallet systems. LCPL operates the national payment network and provides the backbone for licensed commercial banks and other participants authorised and regulated by the CBSL to facilitate interbank payments. LCPL has already implemented the Lanka Pay Online Payment Platform (LPOPP), which is an online payment platform approved by CBSL and currently facilitates individuals and businesses to make real-time payments from their current of savings accounts when obtaining services from organisations that are connected to LPOPP. CBSL operates the Real-time Gross settlement system (RTGS) through which all-interbank settlements are carried out to complete the end-to-end payment and settlement cycle.
As a result of this endeavour, by integrating LGPS with LPOPP, individuals and businesses will be able to make online payments to a plethora of Government services directly from their current or savings accounts utilising already existing payment infrastructure such as Internet/mobile banking facilities and FinTech apps. This initiative will be launched in the near future with the intention of promoting digital payments in Sri Lanka as a national endeavour for the benefit of the public and to make it convenient for individuals and businesses to make seamless payments to obtain Government services, subject to the regulations set forth by CBSL.
Sri Lanka's credit card and phone e-money base is insignificant compared to the segment of population who own bank accounts. The country's total credit card base is less than 10% of the population, but more than 20 million current or savings accounts are in operation via commercial banks and finance companies regulated by CBSL.
According to a recent survey done by LIRNEasia, only around 1.5 million uses Government services online. Non availability of payment options via current and savings accounts is considered as a major contributor towards low use of online Government services such as eRevenue license, eTicketing for cultural (Sigiriya) and wildlife parks and eLocal Government tax payments, etc. This initiative between ICTA and LCPL will enable a majority of the households in the country to seamlessly pay and obtain for Government services online.
Source by : www.ft.lk