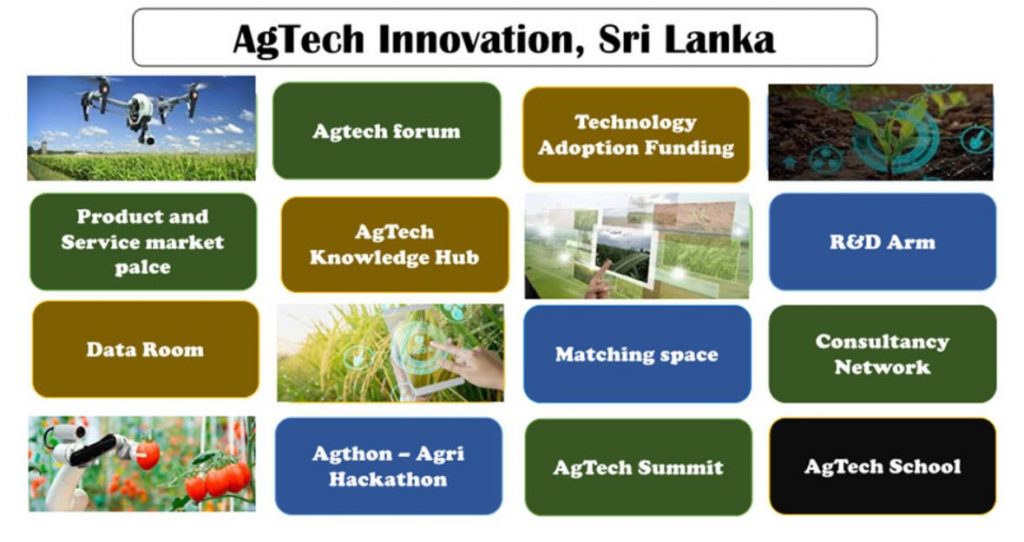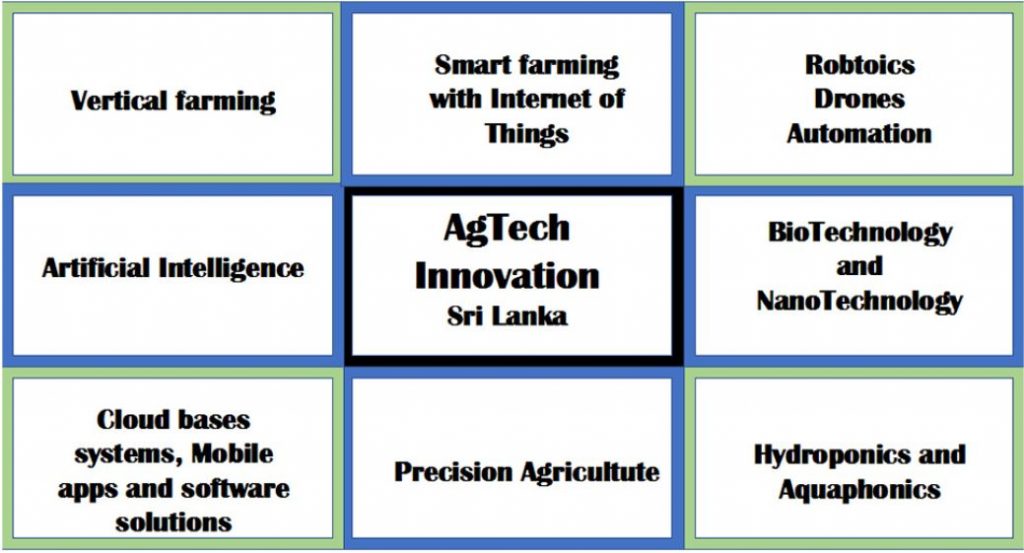 By Eunice Ruth
In the context of applying technology in non-technological sectors of Sri Lanka, the Information and Communication Technology Agency of Sri Lanka (ICTA) has launched an initiative to reach the agriculture sector of Sri Lanka.
As Sri Lankans, we must be proud of having many advanced traditional farming methods and with the expansion of technological developments, the Sri Lankan agriculture sector has many opportunities to develop it technologically. At present, several companies have started using new technologies in the agriculture sector. However, it is not up to the required standard. Therefore, it is the right time to perform agricultural renovations by adopting new agrotechnology.
"With the digital transformation policy of Sri Lanka, ICTA has stepped in to influence the agriculture sector with their digital economy activities. Technology diffusion is one of the strategic business units under digital economy and one of the goals of technology diffusion is to diffuse technologies for non-tech industries. We have revealed and launched our programme with the agriculture sector, named Ag-Tech Innovation, Sri Lanka," said Director, Technology Diffusion, ICTA, Prof. Pradeep Abeygunawardhana.
While commenting on the need for technological development, he said, Ag-Tech was initiated to cater to the needs of the agriculture sector with the help of technology equipment. Using this initiative, we will try to identify the requirements and issues in the agriculture industry, and to identify the gaps in networks and collaborative practices. Furthermore, he added that the ultimate goal of the Ag-Tech initiative was to increase the income, productivity, and the quality of service.
Abeygunawardhana said, the initiative focusses on some key objectives and accordingly, they are to increase the productivity of agricultural value chain of Sri Lanka through technology adoption, to increase the efficiency of agricultural resources across all sectors using advanced technologies, to innovate Sri Lankan agricultural sector by developing and deploying new technologies and advanced farming methods, and to improve the quality of agricultural products considering international standards.
Need for technological development in agriculture sector
Currently, in Sri Lanka farmers use traditional methods for cultivation and they work hard using hand-held equipment. Even in some parts, the harvesting was also done using hand-held equipment. Despite the fact that they work hard, they face a lot of problems to lead their daily life and mainly financial issues. Also, they face another major issue, where they are unable to harvest without wasting.
"In order to fulfil the requirements of farmers within the country, the ICTA along with universities and other cooperative industries has conducted several studies to find ways to fulfil them with the help of artificial intelligence (AI) and mobile applications. Accordingly, farm machinery is an important need for farmers to cultivate. However, currently, the farmers have no such facilities except one or two. While discussing this with farmers, they said they need machines in smaller size with low cost and machines, which can be used for Sri Lankan varieties," Abeygunawardhana said.
He said, the technological landscape for Ag-Tech Innovation includes many advanced and recent technologies. Key technologies that we have identified are Internet of Things, artificial intelligence, robotics, drones, biotechnology, nanotechnology, hydroponics, aquaponics, cloud-based systems, mobile applications, web-based systems, precision agriculture and vertical farming.
The agriculture sector is very broad and is connected to many other areas as well. Agrobusiness is the business of many agricultural businesses which includes precision agriculture, use of technologies such as AI/ML, IoT, agrichemicals, breeding, crop production, distribution, farm machinery, processing, and seed supply, as well as marketing and retail sales. Agrobusiness stakeholders have many requirements in terms of technical solutions. On the other hand, there are many solution providers who do not have proper access to problem holders. This inaccessibility curtails the growth of business and this matching space is the platform which connects both parties together to speed up the growth by facilitating a high number of technical solutions in the industry.
Sri Lankan roadmap of Ag-Tech
Under the Sri Lankan roadmap of Ag-Tech Innovation, the following key activities are planned to be completed during the process. Ag-Tech School, Ag-Tech Summit, Agthon-Hackathon Competition, Matching space, Ag-Tech Consultancy Network, Research and Development (R&D) Arm, Ag-Tech knowledge base, Data Room, Technology Adoption funding, Product and service marketplace and Ag-Tech forum.
Ag-Tech forum is a sustainable development strategy that needs to be considered by all stakeholders in ecosystems and their requirements. The main objective of Ag-Tech forum is to create a collaborative environment to make sure that the ideation is happening in the relevant sector. Ag-Tech forum includes several exciting activities such as meetups, technical talks, focused group discussions and product demonstrations etc.
Product and service marketplace is not the traditional marketplace where we sell foods from farmers to customer. This marketplace will provide the opportunity for both technology developers and technology service providers to post their products and services. It could be new sensor system, or control unit to drip irrigation or a mobile app for disease detection. All technologically advanced products and services will come to this platform. This will be the connecting space for any stakeholders in the system to improve their Agribusiness. Further, this improves the awareness about technologies being used in the agriculture sector.
Technology Adoption funding helps many innovators and researchers islandwide who are developing new product and services. However, a very low conversion rate can be observed in the agriculture sector due to various issues. Even advanced and more capable technologies will not be converted to usable products due to lack of financial support. Technology adaption funding is for converting new technologies to products and services.
Data Room is a place where artificial intelligence and machine learning based development is heavily dependent on availability of useful data sets. Further, smart farming which uses mobile applications and Internet of Things also requires good data to have effective and useful products and services. Additionally, availability of data can be used to forecast harvest, future market prices, weather changes and others. Data room that we are building will contain different data which covers different areas of agrotechnology.
Research and development activities are key to the development of anything and this R&D arm will bring the expertise knowledge and skilful researchers together which will be mostly supported by State funding or funding raised by public-private partnerships. Further, this R&D will be open for corporate to fund their development as well.
Through Ag-Tech Consultancy Network expertise knowledge will be shared with people in the sector when and where farmers, agri companies, Ag-Tech developers need some support in the form of consultancy. Pools of consultants will be created, covering all knowledge areas of the sector. This will include academic and experienced people in the industry.
Future plans
In addition, Director of Vega Innovations, Dr. Beshan Kulapala, said for the past six years, they have been developing advanced agrotechnology to automate greenhouse and open fields in Sri Lanka. He said, the entire country needs to adapt to the technological measures and the country needs to digitise the entire agriculture chain from 'Seed to Plate.' Currently, we have greenhouse, single rack and multiple rack vertical agriculture, automated farmhouses and packaging arm in Sri Lanka and the packaging arm was used to send the harvest to local market and export market. The technology needs to be used in developing software which can provide an end-to-end solution to all these processes where it can record the data from the beginning, where the farmer plants the seed, to exporting to markets and the last customer who receives the goods.
Technological education 
Education is very important to develop innovative ideas and with the advancement of digital technologies, self-learning through online platforms has become more common and familiar for most people. As a platform for that, Ag-Tech knowledge base has been developed. Also, Agriculture and Ag-Tech are two interrelated areas with huge scope. This knowledge hub will provide learning material and online courses for people in the sector to get the required knowledge.
Meanwhile, speaking about the educational knowledge which is provided to Sri Lankans, Senior Lecturer and Head of Department, Department of Engineering Technology, Faculty of Technological Studies, Uva Wellassa University of Sri Lanka, Dr. Y.N. Senani Wijewardana, said, in Sri Lanka, the technology stream was introduced in 2013 from G.C.E. Advanced Level and the first university intake took place in 2015 by the Ministry of Education together with the National Institute of Education. The authorities have identified the importance of technological education and the Government has introduced it for the use of students and to cater to the demands of job industries.
Implementing strategies to change the traditional farming into a digitalised platform is a needed measure to ease the farming works as well as to uplift the lives of farmers. Smart agriculture with technological harvest is one of the most needed things for Sri Lankans as well as, for other countries too.
Currently, undergraduates in Sri Lanka have started conducting studies and collaborations to identify the needs of farmers and innovations to fulfil them. Some innovations by undergraduates are Groundnut threshing machine for Sri Lankan varieties, Motor Driven Coconut De-husker Machine, Automated chemical sprayer, Plant irrigation water sprinkler robot, Extrude Machine to make synthetic Basmati rice, Computer Numerical Control Wood crafting machine, and Eco-friendly packaging materials from waste materials and modified dust extractor for Ettampitiya water treatment plan.
Meanwhile, to increase awareness among schoolchildren and undergraduates, ICTA will collaborate with universities, professional organisations and schools and other educational bodies to conduct Agthon-Hackathon Competitions in agriculture related technologies. Also, another objective of this Hackathon is to promote modern farming among students.
In addition, showcasing achievements, networking and awareness on new technologies is a vital factor on sustainable and steady journey of high-end Agrobusiness ecosystem in the country. Therefore, Ag-Tech summit will be organised by ICTA to recognise and showcase new product development, new technologies, our agricultural products etc. This summit will be open for local and foreign investors and this will create new businesses in the industry.
Source by : www.ceylontoday.lk