Startup Weekend Jaffna took place from the 24th to 26th of June 2016 in Jaffna. Google for Entrepreneurs is the global partner for Techstars Startup Weekend Program, including Startup Weekend, Startup Next and Startup Digest.
ICTA supported the event as the National Partner.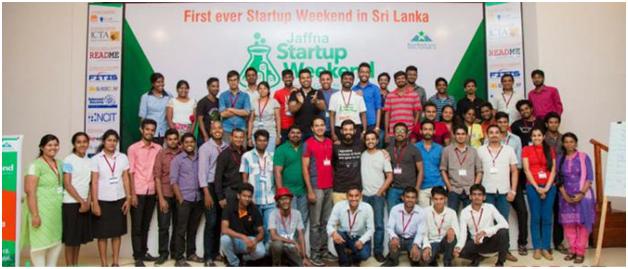 Startup Weekend is a global event which consists of 54 hours of prototype development, exploring potential markets and pitching.
Startup Weekend Jaffna gave the opportunity for Sri Lankan startups and individuals to collaborate with other startups. Veteran business people, promising entrepreneurs, designers, Coders, growth hackers were among the parties who were present at the event.
Key speakers were Lahiru Pathmalal – Co Founder at Takas.lk, Arunesh Peter – Chief of Projects at ICTA and Chandika Jayasundara – CEO & Co-Founder of Cinergix. Event judges were Mano Sekaram – Chairman of SLASSCOM and Sachindra Samararatne -Program Manager,Industry Development,ICTA.
By 24th of June night goals were set and roles were assigned to the startups. On the 25th startups were contacting potential customers, examining the market for their ideas and building their products. On 26th they were making their product work and preparing for the final pitch. Throughout the process mentors from all backgrounds were be supporting the startups.