The Information and Communication Technology Agency (ICTA) recently concluded the third 'Spiralation Demo Day' at the SPARX Lab. ICTA has been supporting the development of the startup ecosystem since 2010 by creating awareness, instilling entrepreneurship culture, incubation, providing market access, early-stage seed funding, consulting, and mentoring.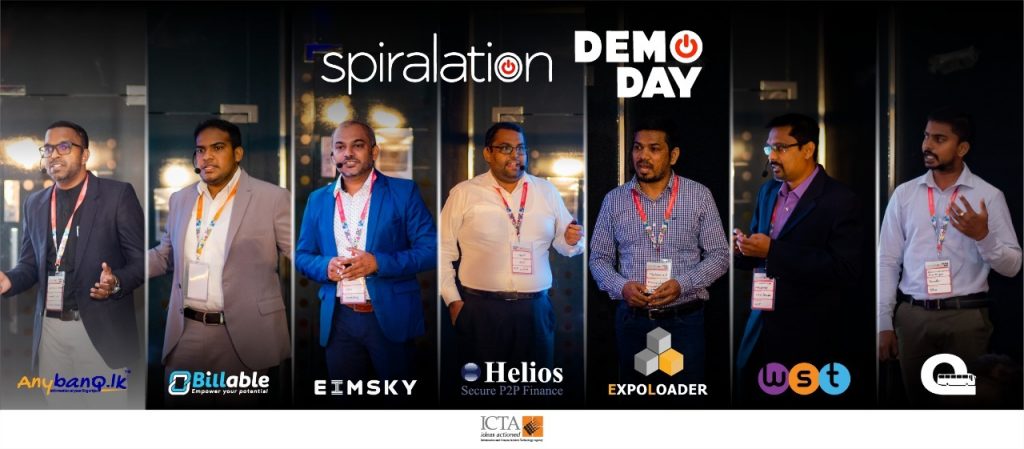 Seven startups presented their solutions to potential investors at the third 'Spiralation Demo Day'. The seven startups include Expoloader (space optimization software), Billable (All in One Business Management Toolkit), Eimsky (one-stop vendor for RFID/Access management needs), Helios (peer-to-peer lending and alternative financing platform), QBus (online bus ticket booking service), AnyBanq (digital banking information platform), and Superb Business Solutions (Pvt) Ltd. (Student MIS). 
The forum provided valuable networking opportunities for potential startups to meet with industry-heavy hitters and expand their professional sphere of influence. The event was made possible by the generous contributions of alumni of the Spiralation programme: Bhasha Lanka Pvt Ltd, Direct Pay, Loops Digital Pvt Ltd, Nanosoft Global Pvt Ltd (Smart COOP), SenzMate Pvt Ltd, and Univiser.io.
Mr Sachindra Samararatne, Associate Chief Digital Economy Officer ICTA, stated, "promoting entrepreneurship is of paramount importance. It should be encouraged at this point as it contributes to revitalizing the local economy despite many challenges. Spiralation is facilitated by ICTA with the support of the startup ecosystem to uncover startups that are hidden gems, and we are proud to facilitate the Spiralation Demo Day to help these startups take their business to the next level."
He went on to say, "This year, over 24 firms have had the opportunity of presenting at the 'Spiralation Demo Day', and they have been able to generate over 50 new leads altogether. There are many success stories of companies that have been a part of this initiative, which shows the trust and credibility created".
Commenting on the initiative, Mr Hithesh Fernando, founder and CEO of Fintech Digital Pvt. Ltd. stated, "we owe a great deal of our success and presence to ICTA. It has enabled us to build connections with the startup ecosystem and helped us reach a range of markets worldwide. "
The startup ecosystem has been growing steadily thanks to the support of several partners contributing to this worthy cause. These measures will catapult Sri Lankan enterprises to new heights and aid in contributing to the development of the Sri Lankan economy. Potential startups interested in being a part of ICTA Spiralation programs can connect with us via startups@icta.lk