The Industry Development program of ICTA co-organized a seminar together with the Centre of International Cooperation for Computerization (CICC), Japan on "IT Utilization to Strengthen Economic and Social Infrastructure" in Colombo, Sri Lanka on February 20, 2018.
This seminar introduced IT applications and solutions Japan has implemented in-order to help Sri Lanka apply IT in social and economic infrastructures. The participants of this seminar were government CIO's, officials of relevant ministries, managers, researchers and decision makers representing public and private organizations.
The Japanese delegation comprised 12-15 C-level professionals from leading ICT organizations such as Hitachi Ltd, NEC Corporation, Fujitsu Limited, NTT DATA Corporation etc. and the delegation was led by the Executive Director of CICC.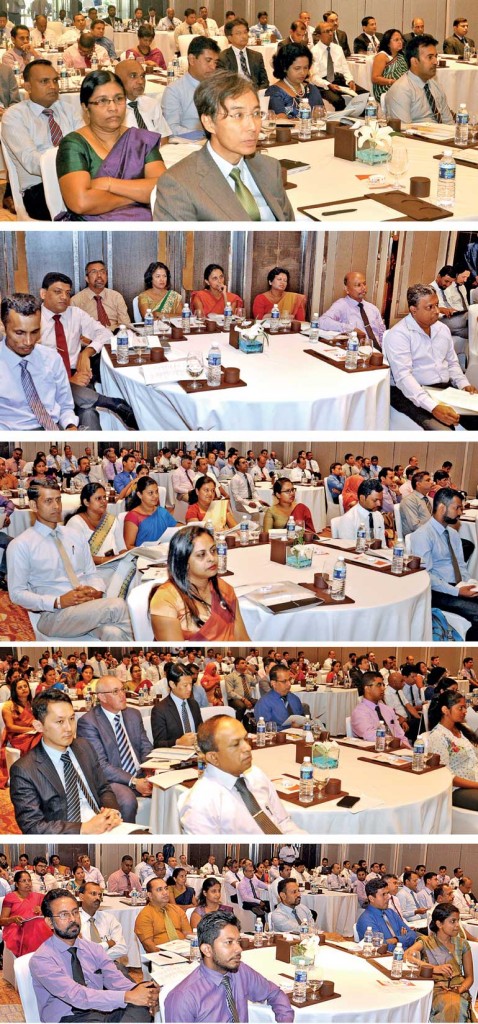 •    Japanese tech companies urged to explore skilled labour opportunities in SL
•    SL seeks to embrace Japan's successes in establishing Society 5.0
•    Major study underway on drafting digital strategy
•    Agriculture, manufacturing and tourism sectors to maximize IT use
A Government MP on Tuesday extended an open invitation to Japanese technology companies to explore different ways in which they could invest in Sri Lanka's digital development drive.
Speaking at a seminar on utilizing IT to strengthen economic and social infrastructure, jointly organized by the Information and Communication Technology Agency (ICTA) of Sri Lanka and the Centre of International Cooperation for Computerization (CICC) of Japan, UNP MP Prof. Ashu Marasinghe said Japanese tech companies could benefit from Sri Lanka's skilled labour force.
"We know Japan is facing a shortage of skilled staff. We can give access to an excellent workforce. I ask you to please explore different ways Japanese companies can work with Sri Lanka," Prof. Marasinghe told the Japanese company representatives present in the audience. Highlighting the technology related goals outlined in the Government's Vision 2025 development drive, Prof. Marasinghe said the digitization of the economy as fast as possible was a key element in the program.
"We have identified that we need to make use of our friends who are ahead of us to help us leapfrog to the future. We also need to work with the private sector to achieve our vision. Our Government invites the private sector, both local and foreign, to invest in digital technology," he said. Among the high-tech Japanese companies attending the seminar were Hitachi, NEC Corporation, NTT Data Corporation and Fujitsu. Prof. Marasinghe urged the participants to take back to their representatives the message that the Government of Sri Lanka was keen for them to invest in the country's development drive.
"Our aim is to create a smart nation by 2025. We have already made many systems that make life easier for citizens," he noted, listing examples such as the recently launched e-Local Government initiative that he said would contribute to making Sri Lanka an island of ingenuity. Commenting on the rapid advancements in ICT, the proliferation of the Internet of Things (IoT), artificial intelligence and robotics, Prof. Marasinghe emphasized the drastic changes taking place.
"We're extending our life experiences to virtual and augmented realities. Advanced algorithms are being made to make sense of the massive amounts of data being generated. We're seeing all these technologies embedded into our lives in a seamless manner," he said. He added: "Today our lives are enhanced by these technologies and we have an ambitious plan to empower citizens and government officers towards digital tech. Who better than our Japanese counterpart to assist us."
ICTA Chairperson Chitranganie Mubarak, who also spoke at the event, highlighted the need to work together in embracing advancements in technology. "We share the belief of the Japanese Government that if we are to move away from stagnation and achieve economic growth, we need to leverage on the industry 4.0, on IoT, big data, AI and, above all, leverage on these technologies to resolve social issues as well," she said.
Mubarak noted that for Sri Lanka to move towards its own version of Society 5.0, Japan's ambitious societal transformation plan, the island nation could learn from the former's experience. "Moving to Society 5.0, we look to your experience in leveraging on these technologies to achieve these developments. One of the strengths Sri Lanka enjoys is that we have young people from our country working in your companies," she said, referring to Sri Lankan IT professionals and startups being incubated in IT parks across Japan. "This exchange is a good foundation for us to move forward on," she said.
Secretary to the Ministry of Telecommunication and Digital Infrastructure Wasantha Deshapriya highlighted the Government's National Digital Policy, eGov Policy and Broadband Policy currently being drafted with Vision 2025 in mind. According to Deshapriya, the Government has also adopted open standards, the Lanka Interoperability Standard, web standards and local language standards. Among the e-laws are the electronic transaction act, the computer crimes act and the IP rights act.
"The electronic transaction act has been recognized as one of the best pieces of legislature in the world. The United Nations International Trade and Law Commission and the UN Convention of Electronic Contracts were the two principal documents Sri Lanka used in completing the act. "The computer crimes act is all in place to protect some aspects of legal matters related to digital transactions. We need a data protection act as well as a cybercrime law. Both are in the pipeline being drafted."
In terms of the hard-digital infrastructure, Deshapriya said the National Backbone Network covers 95% of the country, with a 140% mobile coverage (at 80% 3G and 30% 4G). The Lanka Government Network 2.0 connects 850 government organizations through fiber. "Lanka Gate manages huge amounts of traffic: over 1 million messages a day." According to Deshapriya, a National Spatial Digital Infrastructure initiative is being developed.
Touching on digital economy initiatives, the Ministry Secretary noted that IT was currently Sri Lanka's fifth biggest foreign exchange earner. "Innovation based startups are coming up fast. The industry must lead. Many private sector companies have created their own incubators, accelerators, etc. There is a new co-working space available across Colombo for people to just go in with their laptops and work, with unlimited Wi-Fi, coffee and various appliances. They make about Rs. 8,000 a day. This is encouraging," he said. However, he added, regulation and legal support need to be introduced.
Recalling that American management consulting firm A.T. Kearney nominated Sri Lanka as the best outsource destination in 2015 and 2016, Deshapriya said that the Government has just started a major study for its Digital Economic Strategy. This initiative, he said, was run under Prime Minister Ranil Wickremesinghe's office, supported by industry bodies, and will look at three major sectors, namely agriculture, manufacturing and tourism. For example, considering even commercial agriculture still relies on mechanized tools as opposed to digital tools, said Deshapriya, the study will look at possible avenues towards incorporating IoT and other technologies to agriculture. "The objective is to maximize IT use in these sectors," he said.
Encouraging the growth of a digital economy will also be looked at, he further said, noting that various fin-tech companies connected to the e-Local Government solution were unveiled last month. "e-Gov procurement has been approved by Cabinet but is stuck in the pipeline. It's being implemented by the Treasury," said Deshapriya. He said the ICTA was also pushing hard for a cross government document and workflow management system which should be available in six months' time.
Delivering the keynote address at the event, Assistant Director of Information and Communication, Electronics Division, Commerce and Industry Policy Bureau, Ministry of Economy, Trade and Industry (METI), Tadashi Okayama, spoke at length on Japan's IT policy and its strategy for Society 5.0. According to Okayama, Japan has two basic acts on IT and data. This is in addition to an IT declaration made by the Japanese Government in 2013, which it continues to renew annually.
"The key to overcoming stagnation and realizing economic growth is Industrial Revolution 4.0 (utilizing AI, big data and IoT). We will incorporate innovation into all industries and social life, and we will realize Society 5.0 to solve various social problems," said Okayama.
To illustrate, Society 1.0 – hunting society, Society 2.0 – agricultural society, Society 3.0 – industrial society, Society 4.0 – information society and Society 5.0 – super smart society. According to Okayama, Japan aims to realize this ambitious goal using IoT and a concept called Connected Industries. This concept seeks to connect various industries, companies, people, machinery, data and others and create new value-added products and services, while improving productivity using AI, big data and IoT.
One of the goals here is to resolve social issues such as the aging problem due to declining population figures, lack of personnel and labour, and environmental and energy constraints. "Strengthening industrial competitiveness will lead to an improvement of our lives and development of our economy." Connected Industries currently work as digitization in factories, offices and societies at large. However, said Okayama, such data is managed independently, with no connectivity.
With the advent of Society 5.0, he believes this will change. "We can solve social problems to connect data and to make effective use through technological innovation, productivity improvement and skill transfer," he said. To achieve this, he added, it is important to develop cross-sectoral measures immediately. It is just as important to strengthen cross-sectoral measures with real data.
Sharing and utilization of real data, further development through startups and other ventures, and laying a foundation for data utilization through research and development and human resource development as well as cyber security will be key, he said.
Sourced by: www.ft.lk