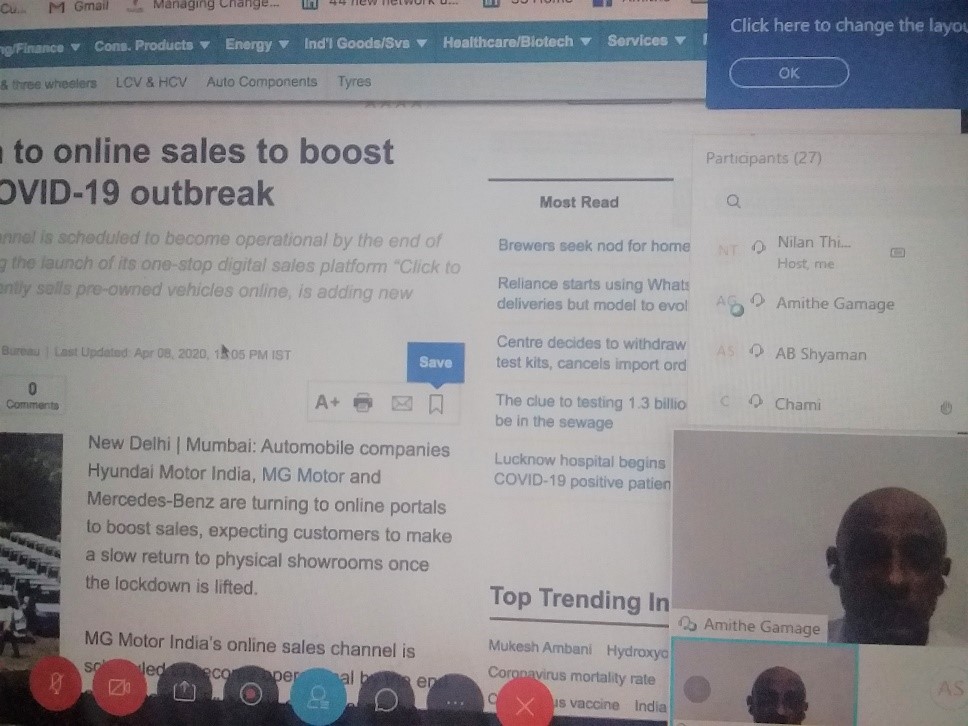 LEAP Sri Lanka Program of ICT Agency of Sri Lanka (ICTA), the platform that facilitates regional development by bridging national & regional strategies and the development of the technology SME ecosystem; is continuously engaging with the community (consisting of regional technology companies) by offering its expert guidance, sharing knowledge and connecting the regional IT SME's with relevant industry stakeholders and domain experts to manage and overcome the present Covid19 crisis. During this unforeseen times, LEAP is also designing and managing a spontaneous WFH webinar series considering the dynamic demands and requirements of the community. In-line with the above, LEAP successfully facilitated another virtual session on "Branding and staying relevant to the Market during a pandemic" conducted by Mr. Amithe Gamage, Senior Consultant, business coach and Co-founder of Quantum Leap (Pvt) Ltd.
More than 50 EOI's received but scrutinized to 30 companies as this was also designed as a working session to focus on the LEAP community and other regional technology companies; covering all 09 provinces of SL. These structured as well as dynamic engagements will be continued and followed up to ensure it benefits the regional tech SME ecosystem that will ultimately support Sri Lanka LEAP forward!
LEAP is a community consisting of 40 SMEs from around the country (representing all provinces of Sri Lanka) and built with in the past eight months (starting from the initiation of this program in which the cohort of SMEs receive a 360 degree support ranging from personal development/ grooming to business development, remodeling etc. to International market access) and are now actively engaged in developing their businesses and growing their networks locally while scaling them up to explore and reach global markets. An industry support initiative by ICTA, supported by the Ministry of industrial export and investment promotion, Exports Development Board (EDB) and other industry stakeholders; LEAP program was conceptualized to drive export growth through innovation and entrepreneurship, addressing regional level technology companies.