First regional cluster development initiative commences from the Northern Province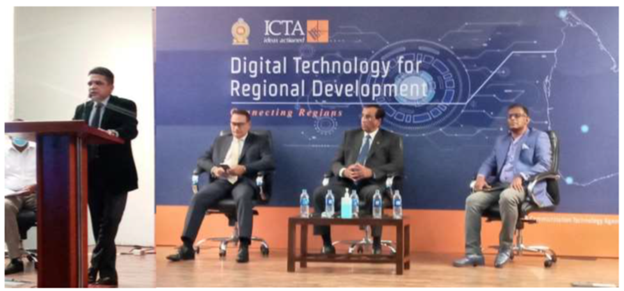 The Information and Communication Technology Agency (ICTA) is at the forefront of driving digital transformation to make Sri Lanka a digitally inclusive nation. ICTA together with the Ministry of Technology, Telecommunication Regulatory Commission (TRCSL), Telecommunications Partners and Industry partners launched this two-day forum with the objective of creating awareness about the national digital transformation agenda for the country and engage with regional partners to create a conducive environment in the north province for digital technology development.
This Northern  forum is the first of the five regional cluster development programs planned in the  Western Province, Southern Province, Eastern Province, and Central province.This initiative focuses on creating collaboration among stakeholders in the Northern Region such as Government agencies, Industry, SME sector working in  Agriculture technology, Education technology to introduce new and advanced technologies from local and international experts, providing necessary support for new technology research and development, and connecting solution providers with technology-based companies.
The Government Forum on 25th was conducted with an online participation of 158 participants and staff of Jaffna and Manner connecting from the District Offices. The main Stakeholder Engagement forum on 26th was attended by 140 online participants and physically connecting 15 each from the five District Secretariats went up to a total of 225 participants which was well received. Secretary to the ministry of Technology, Mr.Jayantha De  Silva   commenting on this initiative stated 'we need to facilitate and support our young talent whom I believe are second to non. To do that, we need to create more jobs, use technology to increase productivity,  build capacity and develop the supporting                   infrastructure in the regions. We have plans to establish five technology parks and revamp two IT parks in Jaffna and Manner. The IT/BPM industry itself requires 300,000 technology professionals and we have many initiatives planned to  achieve this goal. As a nation we are now in a progressive path for betterment of the future generation. We want everyone to be apart of this journey and reap its benefits"
Chairman ICTA, Professor Lalith Gamage stated "we at ICTA are facilitators of the national digital transformation agenda and have developed a comprehensive strategy to deliver this. We have identified, 5 areas – Digital Government, Digital Economy, Digital Laws and Policies, Digital Services and Digital Technology. Digital Government –focuses on digitalizing citizen centric services, ease of doing business and digitalizing  services for government efficiency. We have developed a foundational framework to deliver this and are progressing in this area". He also went on to say 'In line with the Digital Economy strategy, five key pillars are identified as drivers to achieve our vision of making Sri Lanka a digitally inclusive nation. Namely; Technology Industry  Development, Startup Ecosystem Development, Capacity Building, Technology Diffusion, and Regional Cluster Development. We have many supporting initiatives to implement these and take the message of digital transformation to grassroots levels'
Anura De Alwis, Chief Digital Economy Officer ICTA, speaking at the session, stated, " We started this inititiave from the Northern Province since, according to statistics and information we believe that, North province would be a fast adopter of our digital transformation initiatives. For example; the 2nd largest start up community in Sri Lanka is represented by the north province. And we want to take that message to the other regions as well. We at ICTA are facilitators.  We have facilitated many initiatives to support start ups  such as an alternative credit framework for startups, removing impediments  for starup development through the spiralation programe. We want to support our startups to go to the global stage. Many programs are in place to develop digital capable youth, future ready women, digitally capable 'differently abled persons', and digitally capable 'elderly generation'.
An  MOU was signed by Eng. Mahinda B. Herath – Chief Executive Officer of ICTA and Mr. T. Thavaruban- Chairman Northern  Chamber of Information Technology  signifying the partnership between both organizations in moving forward towards developing Digital Technology in the Northern Region.
Indumini Kodikara- Director Regional Cluster Development, stated, " ICTA would like to thank all partners who have joined us in this national inititaives; Ministry of Technlogy, Telecommunication Regulatory Commissiin, Dialog Axiata Pvt. Ltd, , Sri Lanka Telecom and  Mobitel, Bharati Airtel Lanka Pvt. Ltd, Hutchison Telekom Sri Lanka, Lanka Bell Limited, University of Jaffna, SL Association of  Software Services  Companies (SLASSCOM), Federation of Information Technology Sri Lanka (FITIS), Chairman British Computer Society(BCS), NCIT, CSSL, SLINTEC, SLIBTEC, Extreme SEO and specially thanked all the Government, Private sector and all others who connected from the Northern Region. Without them we will not be able to take this journey and wanted them to hold hands with ICTA in moving forward.