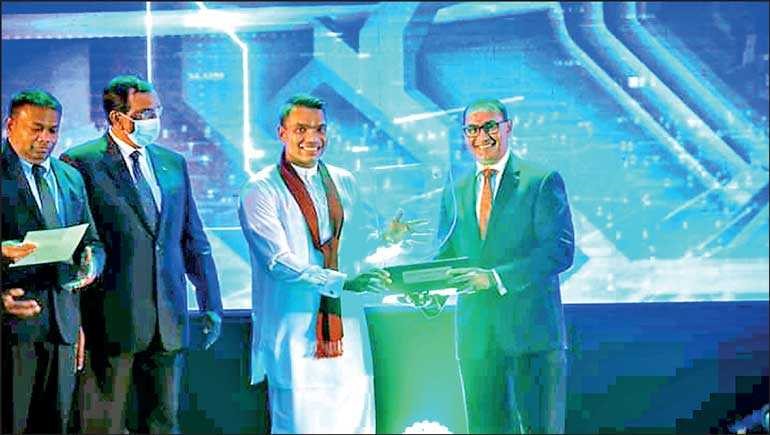 ICT Agency (ICTA) Chairman and Sri Lanka Institute of Information and Technology (SLIIT) Founder/CEO Prof. Lalith Gamage received the coveted 'Most Outstanding ICT Contributor of the Year Award' at the recently concluded NBQSA – National ICT Awards. The Awards organised by the Sri Lanka Section of BCS, the Chartered Institute for IT, was held at the BMICH on 3 February.
The award recognises Prof. Gamage's outstanding contribution in the IT sphere of Sri Lanka and his invaluable efforts to develop the IT industry. He has served the Sri Lankan Government at various levels over the years, and some positions he held included Chairman of the ICT Cluster of the USAID sponsored Competitiveness Initiative, Executive Director of the Export Development Board's Trade Information Network and Chairman of the IT Task Force formed by the Ministry of Enterprise Development, Industrial Policy and Investment Promotion.
"I believe information technology is the future of any nation and it is encouraging to see the strides we are making in this industry and I am happy to play a dual role in taking it forward. As chairman of ICTA I get to spearhead the Government's digital governance initiative, working with an experienced committee tasked with seeing it through.
"On the other hand, as CEO of SLIIT, I play a role in shaping young minds and making them future ready to work and live in a digitised world. There is a lot more to accomplish, and this award is a reminder that I cannot sit on my laurels," Prof. Gamage said on the sidelines of the ceremony.
Lalith Gamage is an industry leader in computer science, having played a pivotal role in the development of IT education and research in the country. He also chairs the first Sri Lanka Technology Incubator set up to support local startups.
Prof. Gamage holds a Bachelor of Engineering from the University of Moratuwa, where he went on to become a lecturer and director. He has a Master of Information Technology from the De Montfort University, Leicester, U.K and a PhD specialising in Artificial Intelligence from the University of British Columbia, where he served as a Postdoctoral Fellow.
An Affiliate Professor at the University of British Columbia, and an Adjunct Professor at Curtin University, Australia, Prof. Gamage is a prominent figure in Sri Lanka's education sector. SLIIT has gone from strength to strength under his leadership and is today recognised as the largest non-state not for profit higher education institute in the country with affiliations to some of the top universities in the world.
Source by : www.dailyft.lk