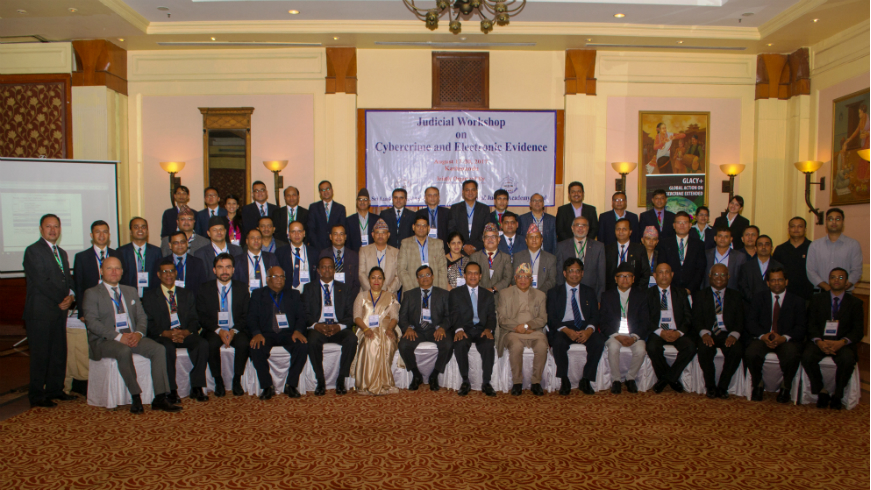 Organized under the GLACY+ framework, on the initiative of the National Judicial Academy of Nepal and of the Sri Lanka Judges' Institute, the Special Program on cybercrime and electronic evidence for Nepalese judges, judicial officers and prosecutors opened in Kathmandu in the presence of His Lordship the Chief Justice of Nepal and His Lordship the Chief Justice of Sri Lanka.
The course represents the first regional experience of judicial training on cybercrime in South Asia, where a group of selected and experienced Justices from Sri Lanka, already accredited trainers on the national level, committed to share their knowledge and expertise with colleagues from Nepal, on the basis of the GLACY+ training modules.
The training represented an occasion for the Nepalese judicial authorities to also discuss about the current legislative framework on cybercrime and electronic evidence, and identify the gaps that would need to be filled in line with the provisions of the Budapest Convention and related international standard for cross-country cooperation among criminal justice authorities.
In the South Asian Region, Sri Lanka has been the first country to become Party to the Budapest Convention, ratifying it in 2015 and benefitting thereafter of the capacity building programme developed by the Council of Europe through the GLACY+ project. Sri Lanka's accession to the Budapest Convention was facilitated by the Legal Division of ICTA Sri Lanka and the Sri Lankan Ministry of Foreign Affairs.
Sourced from : www.coe.int