ICT Agency (ICTA)-led efforts to get Sri Lanka ratify the UN Electronic Communications Convention bore fruit, when Sri Lanka's Permanent Representative to the UN in New York Dr. Rohan Perera deposited the Instrument of Ratification in New York recently.
This is sequel to approval from the Cabinet of Ministers obtained in June. The Cabinet approval authorised the Ministry of Foreign Affairs to deposit the Instrument of Ratification at the UN Treaty Office so as to ensure Sri Lanka's entry into this only UN Convention on the subject of international e-Co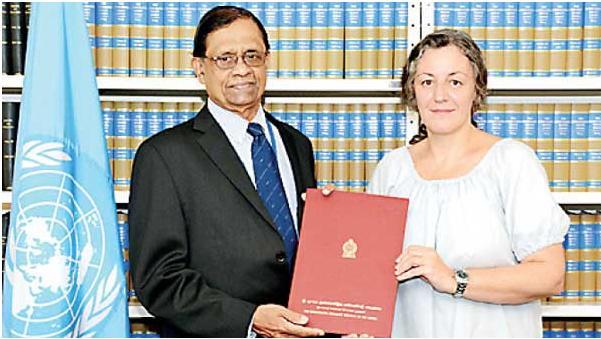 mmerce and on the use of cross border e-Contracts.
With its ratification Sri Lanka becomes the first country in South Asia and second country after Singapore to become a State Party to the Convention. Countries like Australia, Thailand, Vietnam and China are already preparing domestic legislation to ratify this Convention.
However, Sri Lanka's ratification of this Important UN Convention was possible because the country already has the required domestic legislation, namely, the Electronic Transactions Act No. 19 of 2006, which is based on this UN Convention. The Convention will enter into force for Sri Lanka on 1 February 2016.
ICTA's Legal Advisor Jayantha Fernando said: "The UN Electronic Communications Convention, also known as the UN Convention on the Use of Electronic Communications in International Contracts, builds on the legal principles contained in other UNCITRAL Model Law on Electronic Commerce (1996), and makes it more relevant to the Internet era."
"Sri Lanka's ratification of this Convention will ensure greater legal certainty for e-commerce and e-business providers who wish to use Sri Lankan law as the applicable law and ensure international validity for such e-contracts. The Convention also ensures legal validity for other international legal instruments as well as cross border funds transfers, enhancing the ability of Sri Lanka to fast track its move towards paperless trade facilitation," Fernando added.
A UN Information Service press release, issued in Vienna datelined 9 July, stated: "Sri Lanka announced its ratification of the Convention during the 48th annual session of the United Nations Commission on International Trade Law (UNCITRAL) held in Vienna, Austria."
The UN press release further elaborated: "The UN Electronic Communications Convention aims to enhance legal certainty and commercial predictability where electronic communications are used in relation to international contracts. The Convention addresses, among other things, the determination of a party's location in an electronic environment; the time and place of dispatch and receipt of electronic communications; and the use of automated message systems for contract formation."
" It also provides the criteria to be used for establishing functional equivalence between electronic communications and paper documents – including 'original' paper documents – as well as between electronic authentication methods and hand-written signatures. In doing so, the UN Electronic Communications Convention builds on the fundamental legal principles and provisions contained in other UNCITRAL texts on electronic commerce, namely, the UNCITRAL Model Law on Electronic Commerce, already adopted in about 140 jurisdictions across more than 60 countries."
Sourced by : https://www.ft.lk/