Sri Lanka is highlighted in the world's paramount report on enriching startup and economic growth – ranking as a Top 5 Global Ecosystem and #2 Asian Ecosystem in Affordable Talent.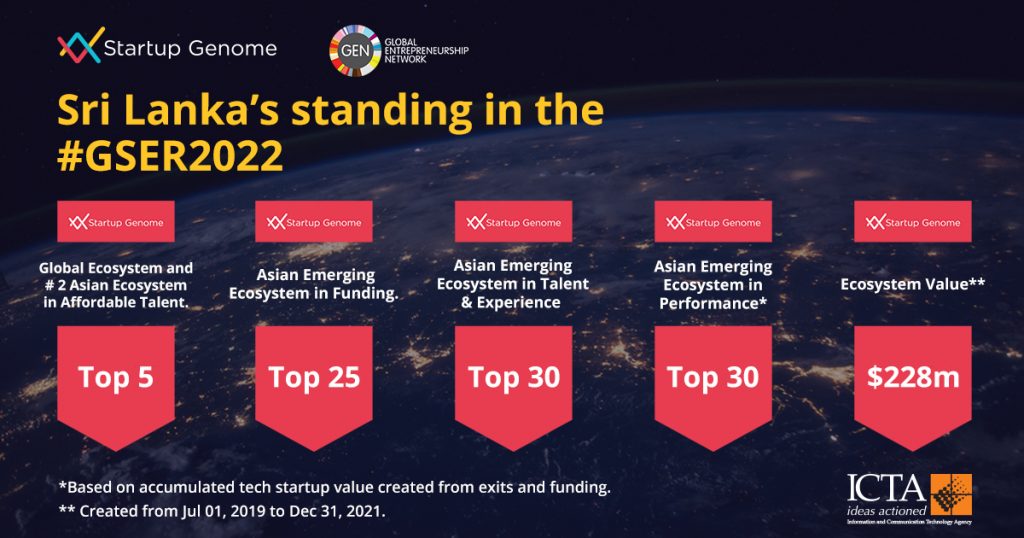 The 2022 Global Startup Ecosystem Report (GSER) by Startup Genome was launched today at London Tech Week. The GSER is the world's most comprehensive, data-driven research on startups with 280+ entrepreneurial innovation ecosystems and 3 million startups analyzed. The Report includes a ranking of the leading 140 ecosystems, continental insights, and founder-focused articles from thought-leading experts.
Information and Communication Technology Agency of Sri Lanka worked in concert with Startup Genome to showcase Sri Lanka's entrepreneurial ecosystem in the #GSER2022 –
op 5 Global Ecosystem and # 2 Asian Ecosystem in Affordable Talent — measures the ability to hire tech talent.
Top 25 Asian Emerging Ecosystem in Funding — measures innovation through early-stage funding and investor's activity.
Top 30 Asian Emerging Ecosystem in Talent & Experience — measures long term trends over the most significant performance factors and the ability to generate and keep talent in the ecosystem.
Top 30 Asian Emerging Ecosystem in Performance — measures the size and performance of an ecosystem based on the accumulated tech startup value created from exits and funding.
Created $228m in Ecosystem Value from Jul 01, 2019 to Dec 31, 2021.
Tax incentives and startup-friendly environment are cited as reasons a startup should move to Sri Lanka.
The Agtech & New Food and Cleantech sectors are highlighted for their density of talent, support resources, and startup activity.
Sri Lanka placed #2 (after Thailand) in Club Med's worldwide ranking of countries for Digital Nomads in 2021.
Nomad4LK digital nomad ambassador competition was held at the AsiaBerlin Summit 2021 in Germany.
Government passed a Personal Data Protection Bill to ensure accountability for citizen data privacy and protection.
Bill and Melinda Gates Foundation to plan to develop a Farmer Data Management Systems and Digital Strategy.
Hatch was awarded the Best Co-Working Space at the Global Startup Awards in November 2021.
"Sri Lanka's Startup Development Strategy boasts of startup- friendly policies, non-collateral based debt finance, and the development of state-of-the-art technology parks, to name a few initiatives in our holistic approach to develop the startup ecosystem and establish Sri Lanka as a hub for new technology," comments Jayantha De Silva, Chairman, Information and Communication Technology Agency of Sri Lanka.
"As global economic transformation specialists and policy advisors, we're extremely proud of how Sri Lanka has performed in the 2022 Global Startup Ecosystem Report," shares Stephan Kuester, Head of Ecosystem Development of Startup Genome. "Working with our local partner, the Information and Communication Technology Agency of Sri Lanka, we are eager to share the stories behind this success."
The GSER is created in partnership with the Global Entrepreneurship Network, Dealroom and Crunchbase. The 2022 Edition provides insights and guidance to public and private leaders on how to foster thriving startup communities — the #1 engine of job creation and economic growth. Discover how 140 entrepreneurial ecosystems across the world stack up and view the full report here: https://startupgenome.com/report/gser2022
Featuring Sri Lanka: https://startupgenome.com/ecosystems/sri-lanka