2016 was an incredible year for the Sri Lankan startup ecosystem. It witnessed many new things for the first time, and it was fascinating to see the incredible growth of the ecosystem. Entrepreneurship transformed into something special, and it had a positive impact on many.
The ICT Agency of Sri Lanka played a significant role in uplifting the startup ecosystem. The tech startup program titled Spiralation is ICTA's initiative to elevate the Sri Lankan startup community. The Spiralation program has been categorized into various sectors to provide a more focused support program.
The Spiralation program helps address many issues faced by the entrepreneurial community in different ways. According to the Startup Sri Lanka report, market access and availability of capital are considered to be the main issues faced by startups in the country.
Each year ICTA selects ten startups for the Spiralation Seed funding program that provides seed funding of 5000USD per startup along with training by industry experts. Started in 2010, the program is now in its 5th year. The seed funding program has funded 39 startups up to date. Success stories include Eimsky, eTenders.lk, Innosoft, HypeHash, Jendo Innovations and PayMedia to name a few.
On the 28th of July, the Sri Lankan startup ecosystem saw something It had never witnessed before. Disrupt Asia, Sri Lanka's first ever startup conference, and showcase, at the Hilton Colombo was a phenomenal success.  The event brought together many of Sri Lanka's top entrepreneurs and industry experts along with the leading personnel from Silicon Valley. The startup showcase was the main highlight which showcased 35 of Sri Lanka's very best startups. Many of these startups are on the correct path to bringing about revolutionary changes in many industries including banking, health, and design.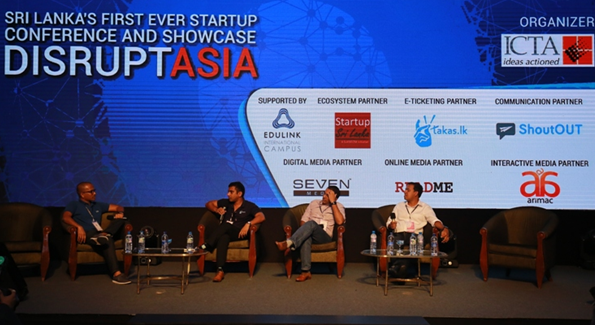 Figure 1 Mr.Mangala Karunaratne (CEO of Calcey), Mr.Lahiru Pathmalal (CEO of Takas), Mr.Ehantha Sirisena (CEO of OMAK Technologies) and Mr.Chandika Jayasundara (CEO & Co- Founder of Cinergix) discussing on the topic "Bootstrap Vs Funding"
Disrupt Asia featured an investor forum, a session where top local and foreign investors were given startup related investor training. This would positively impact the ecosystem by connecting startups with investors. Startups who exhibited were given a chance to take part in startup battles. A startup battle allowed startups to pitch their idea in front of a set of judges and the winners were awarded accordingly. Disrupt Asia was well received and praised by many in the startup community. Disrupt Asia will return in 2017 as an action-packed event.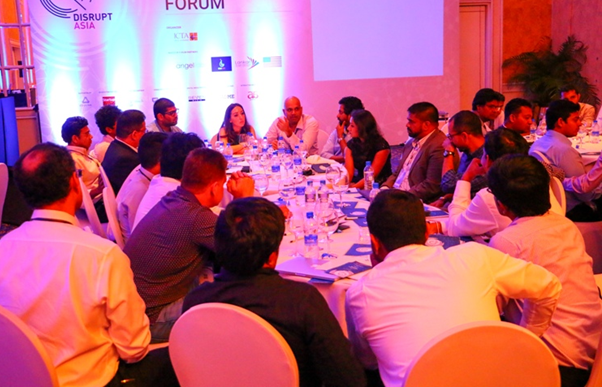 Figure 2 Investor Forum
As a part of its international business promotion to give market access for startups which brought in international exposure and networking opportunity for the community, ICTA organized two startup missions to 4YFN, a part of GSMA Mobile World Congress (MWC) held in Barcelona and InnovFest unbound which took place in Singapore. Startups under the Spiralation program were selected for this opportunity. A Sri Lankan startup (Mogo Solutions) was among the top 15 finalists of the Global Mobile Innovators Tournament that was organized by 4YFN together with IBM at this event. InnovFest stands as one of the top startup events in the world. The startup (LiveRoom) representing Sri Lanka was among the top 6 in the Unilever Startup Battle that took place at this event.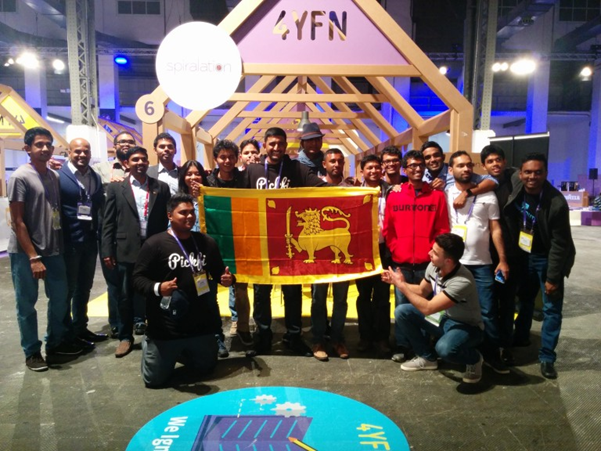 Figure 3Sri Lankan Startup Delegation at 4YFN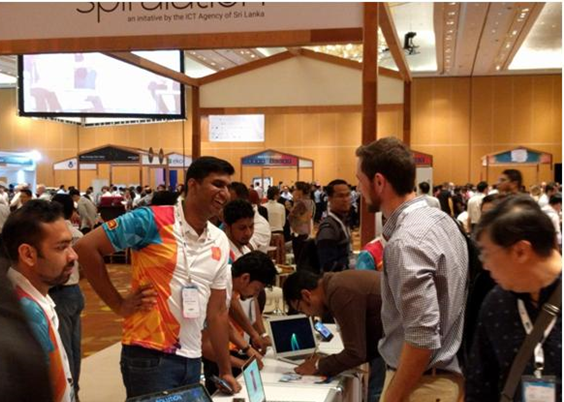 Figure 4Startups having discussions at the InnovFest exhibition booths
The key component of a sustainable startup ecosystem would be its community, it is no doubt the community is hyperactive in the city. To make a positive impact, it is vital to establish startup communities all over the island.  ICTA addressed a major issue that was ignored for many years by initiating startup communities all over the country. This unique initiative will help the country's economy and to uplift the complete startup ecosystem. These types of entrepreneurial ecosystems are driving innovation and have a positive social impact. Communities built will be self-sustained to ensure its continuous growth.
The inaugural program was held in Bandarawela in the Uva District on the 25th of September 2016, and it was titled "Uva Startup Hub," a community of like-minded individuals to make Uva province the next startup hub. By building startup communities throughout the country, ICTA hopes to promote entrepreneurship even in the most remote places on the island in the years to come.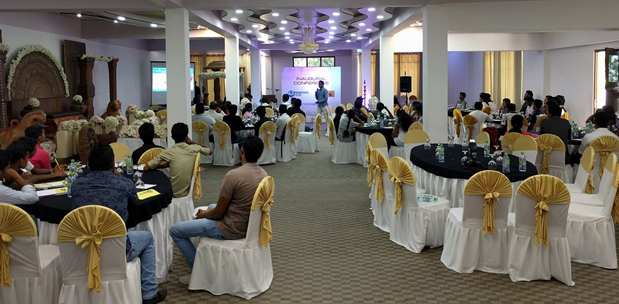 Figure 5 Uva Startup Hub in action
Furthermore, the ICT Agency of Sri Lanka supports a number startup events that occur throughout. Partnered events included include SeedStars Colombo 2016, Global Student Entrepreneur Awards (GSEA), Youth Hack Sri Lanka, Startup Weekend Jaffna, Startup Weekend Colombo, Xeleration, John Keells X, SLIIT Code Fest and Infotel.
The ICT Agency of Sri Lanka plans to host more initiatives in the future that would uplift the Sri Lankan startup ecosystem. The goal is to make Sri Lanka a role model for other countries to learn from. A properly established startup ecosystem will help elevate the economy and have a definite positive influence on society.