Cyber Security Bill approved by Cabinet to be presented to Parliament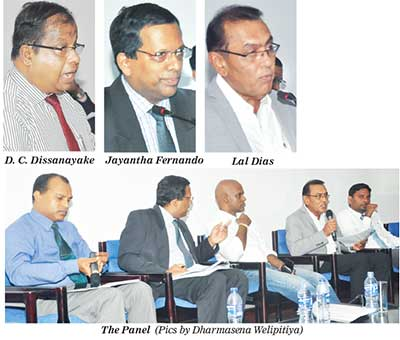 By Steve A. Morrell
Cyber Security, a concerned subject now affecting a wide cross section of IT users and hitherto not largely in a controlled situation, will be included in the statutes to control areas of uncertainty.
Chairman, Federation of IT Industry of Sri Lanka (FITIS), Abbas Kamrudeen, introducing the subject to a group of professionals at a recent seminar, examined the proposal, approved by the Cabinet of Ministers in October 2018.
The Bill, in its draft stage, could be further examined at the seminar before presentation to parliament for debate and made law, if approved, he said.
The seminar was jointly convened by FITIS, Ministry of Digital Infrastructure & Information Technology and Sri Lanka Computer Emergency Readiness Team (CERT)/Coordination Center (CC).
Ministry Secretary, D. C. Dissnayake, said the Bill would cover the legal framework for Egovernment, Ebusiness and a trusted cyber security system operative for the next five years. The proposed Bill was approved by the Minister last October and presented to the Cabinet.
Its objectives are to empower the framework for facilitation of laws that would protect cyber objectives and ensure its bona fide users could work in a protected atmosphere, he noted.
Acting Chairman of CERT and Legal Advisor, ICTA, Jayantha Fernando, said the primary intention of the seminar was to provoke discussion on the draft Bill to ensure its passage after all areas of conjecture would, as far as possible, be examined and discussed before its presentation to Parliament.
He said the pre-view stage was to generate discussion on areas of conjecture and evaluate critical information structure relating to its scope and ambit of the proposed legislation.
What is not included in the draft Bill is the subject of social media and surveillance clauses. These subjects were left out. He did not amplify on reasons for the exclusion, but reiterated further discussion was essential to ensure such grey areas were effectively covered.
He also said inclusive aspects of the Bill were information infrastructure. However, Critical Information Infrastructure would need concurrence of the Central Bank as well to ensure further discussion would continue to ensure detailed examination that would eventually emerge so the Minister could present the Bill as required.
Minister Ajith Perera was also present at the deliberations, but did not offer any views on the subject discussed.
The panel discussion that followed included Jayantha Fernando, Founder and Board Member, WSO, Founder Chairman, Lanka Software Foundation. Dr. Sanjiva Weerawarana, Director, CERT, Rohana Palliyaguru, Senior Lecturer, University of Colombo, Dr. Ruvan Weerasinghe and Head of IT, Thilina Weththasinghe. Lal Dias moderated the discussion.
Source by :
www.island.lk