ICTA joins National IT Conference 2018 as National Partner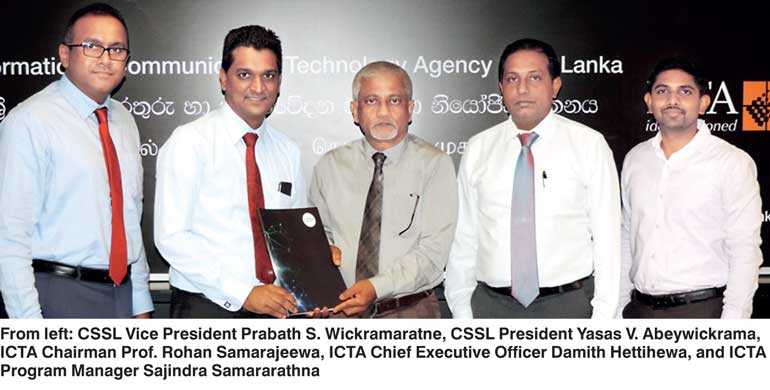 ICT Agency of Sri Lanka has joined hands with Computer Society of Sri Lanka (CSSL) as the National Partner of National IT Conference 2018 (NITC 2018), scheduled to be held from 2-4 October at Shangri-La Hotel, Colombo Sri Lanka.
NITC 2018, under the theme 'It changes everything' is organised by Computer Society of Sri Lanka (CSSL) for the 36th consecutive year. 'This Changes Everything' is the theme this year – many of us would like to associate ourselves with this phrase from Steve Jobs' at the iPhone launch in 2007. All those who are enthusiastic about ICT believe that 'it' will change everything – for the better, for everyone. Details are at NITC.LK.
The MoU signing ceremony was recently held at ICTA and graced by top officials of both organisations including ICTA Chairman Prof. Rohan Samarajiva, ICTA Chief Executive Officer Damith Hettihewa, CSSL President Yasas V. Abeywickrama and CSSL Vice President Prabath S. Wickramaratne.
President Maithripala Sirisena will be the Chief Guest at the NITC Conference this year. Representing ICTA, Prof. Rohan Samarajiva, will be the keynote speaker at the conference inauguration on 2 October. ICTA Chairman Prof. Rohan Samarajiva said that ICTA is pleased to partner with CSSL yet again to support this nationally important event. He further added, "ICTA implements the government's plans for a digitally enabled Sri Lanka, while CSSL supports that vision by representing and strengthening the competencies of ICT professionals in Sri Lanka. The National IT Conference is an important common platform for knowledge sharing among ICT professionals in Sri Lanka, for bringing international and new knowledge into the country and permits deliberations on current ICT topics to help us move toward actionable outcomes."
The Computer Society of Sri Lanka (CSSL) which was established in 1976 is the apex body representing Information and Communications Technology (ICT) professionals in Sri Lanka which is celebrating the 42nd Anniversary this year. The CSSL is also a member of the South East Asia Regional Computer Confederation (SEARCC) and International Federation for Information Processing (IFIP).
The CSSL organises the National Information Technology Conference (NITC) annually, which is the flagship ICT event in Sri Lanka. Last year's NITC is the Sri Lanka's biggest ever international ICT event in the history to date.
This event involves key ICT decision makers in private and public sector together to share and discuss latest trends in Information and Communication Technology with over 30 foreign and local prominent speakers and 1000 plus ICT professionals.
Source by :
www.ft.lk