ICTA together with PwC Introduces new Credit Evaluation Framework to support Tech Companies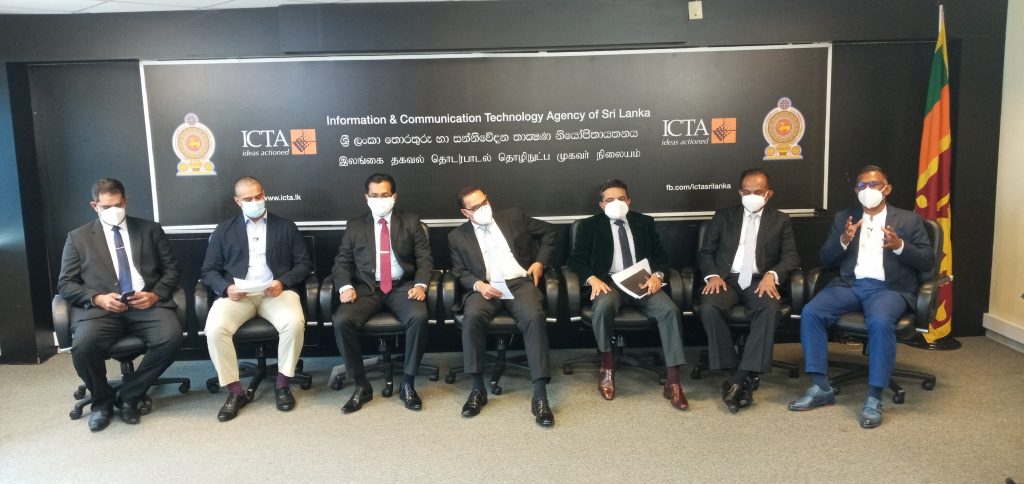 The Information and Communication Technology Agency (ICTA), the apex body for Information and Communication Technology in Sri Lanka, in collaboration with PwC Sri Lanka, recently introduced a new Credit Evaluation Framework to be adopted by lenders when lending to tech companies with minimal collateral. The new framework was launched in an event held with the participation of Prof. Lalith Gamage - Chairman of ICTA, Mr.Mahinda B.Herath - Chief Executive Officer ICTA, Mr. Anura De Alwis - Chief Digital Economy Officer of ICTA, Mr. Kavinda Weerakoon, Director - Deals, PwC Sri Lanka, Mr. Ashok Goonesekere Chief Risk Officer DFCC Bank, Mr. Indika Ranaweera,  Vice President – SME, Middle Market & Business Banking, NDB Bank and Mr. Kanishka Weeramunda, Founder/CEO of Paymedia (Pvt) Ltd. a technology company who has successfully gone through the evaluation process.
Expansion of a tech company is a daunting process due to challenges in obtaining debt facilities, as traditional credit evaluation methods require borrowers to provide tangible collateral in order to be eligible for a business loan. Furthermore, technology companies are evaluated using existing generic credit evaluation frameworks, which have inherent shortcomings in evaluating the merits and demerits of a technology company. Against this backdrop, the launched framework becomes an alternative mechanism for the traditional framework. The new framework has been built around four pillars, namely; Founder, Market, Product, and Financials and has thus provided technology companies to be evaluated on quantitative and qualitative factors that are most relevant to them.
The framework has been formulated with the due support and consultation from an industry-leading steering committee which consisted of Mr. Mangala Karunaratne - CEO, Calcey Technologies (Pvt) Ltd, Mr. Chalinda Abeykoon – CEO, Lankan Angel Network, Mr. Nilendra Weerasinghe - Head – Chief Corporate Advisory Officer, NDB Investment Bank Limited, Mr. Wellington Perera – Director, Cemex Software(Pvt.)Ltd., Ms. Jayomi Lokuliyana – CEO, ZMessenger (Pvt) Ltd.
Commenting on the new framework, ICTA Chairman Prof. Lalith Gamage said, "ICTA, as the apex body for IT industry, is proud to launch this novel credit evaluation method, which is a timely approach to support emerging tech startups and existing tech companies to expand their businesses at a time when the tech startup ecosystem started to revive the country's economy, it is vital to extend financial support for the growth of these tech companies, also considering their huge export capacity. This alternative credit evaluation process will enable tech companies to access funding without the need to rely on personal collateral".
It is noteworthy that the framework has been designed with the recommendations of credit evaluation officers from several banks in order to streamline the mechanism further. Seylan Bank, DFCC Bank, Union Bank, and NDB bank have already expressed their willingness to consider the new framework when assessing technology companies for debt financing.
Chief Digital Economy Officer of ICTA, Mr. Anura De Alwis, said, "Technology industry is core to the country's economic growth with the highest potential for employment opportunities. But most tech companies are faced with difficulties in obtaining loans due to a lack of physical collateral. Moreover, the pandemic has forced many challenges for tech companies, derailing the growth to some extent. In this background, the new framework launched with PwC will play a crucial role in boosting the tech industry. We are thankful to PwC for partnering with us to design the new framework and for the expert advice and guidance from the steering committee in making the whole process a success."
Kavinda Weerakoon, Director - Deals at PwC Sri Lanka, expressed, "Technology enterprises are generally underserved by banks which create a funding gap for these businesses. We are thankful for ICTA in pioneering this valuable initiative and having PwC onboard. PwC brought in deep banking sector insight from a cross-functional team of experts to develop this framework. We are optimistic that this framework will act as a catalyst for lending institutions to provide flexible and innovative financing facilities to develop high-impact technology-driven sectors of the economy."
Explaining the prominence of PayMedia, a rapidly evolving Financial Technology (Fin-Tech) company in Sri Lanka, being granted a loan from NDB Bank, Founder Kanishka Weeramunda said, "Starting your own company can be a daunting but rewarding process. To be granted a loan from a local bank has been a great opportunity for a Sri Lankan tech startup like ours. It gives hope to other similar tech companies and startups who would otherwise have to swap equity or offer collaterals to fund their business."
Kanishka added, "The entire process took place during the second wave of the COVID-19 pandemic. The process was quite straightforward, where we were asked to submit an application along with a business proposal. Following this, we were asked to present our case for obtaining the loan. In less than three weeks, we were given the approval, and the loan was granted."
About ICTA
The Information and Communication Technology Agency (ICTA) of Sri Lanka are at the forefront of driving digital transformation in the nation with a vision to make Sri Lanka a digitally inclusive country. In line with the ICTA Digital Economy strategy, since 2010, ICTA has been supporting the development of startup ecosystems by creating awareness, instilling entrepreneurship culture, incubation, market access, early-stage seed funding, consulting, and mentoring startups. In addition, initiatives such as removing impediments, credit framework, startupSL platform, government software sourcing from startups are an asset to all the tech startups in the country introduced to encourage more new tech-related businesses emerging in Sri Lanka. For inquiries, please reach out to startups@icta.lk.