National Digital Policy to push innovative economy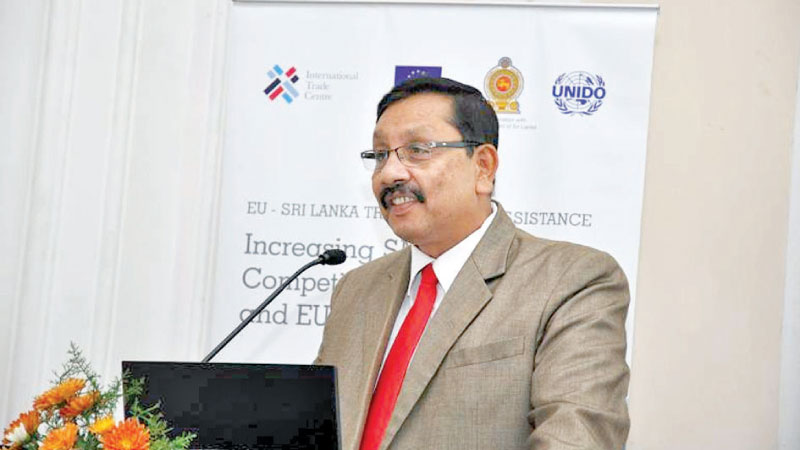 M.C.L.Rodrigo
Facilitation of e-commerce and other modes of digital engagements of people, businesses as well as the government organizations are very much aligned with the mandate of the Ministry of Digital Infrastructure and Information Technology, which work towards creating a digitally empowered nation.
The Digital Infrastructure and Information Technology Ministry along with its two key organizations; Information and Communication Technology Agency of Sri Lanka (ICTA) and Sri Lanka CERT are assisting to realize thrust areas relating to e- commerce through series of activities , with the introduction of policies, strategies, regulations, human resource capacity development activities while ensuring provisions of required digital infrastructure, M. C. L. Rodrigo, Secretary at the Digital Infrastructure and Information Technology Ministry told at the Third National Public -Private Dialogue on e-commerce Reforms in Sri Lanka, organized by the Ministry of Digital Infrastructure and Information Technology and the International Trade Centre in Colombo.
He further said that the Draft National Digital Policy (2020-2025) which is still under review has recognized the need for an innovative economy with a focus on improved competiveness, revenue and digital jobs.
"ICT industry has also set a target of achieving US $ 5 billion export revenue by at least 2020. Facilitation and creating multi stakeholder partnership for creating digitally enabled free trade zones are now being thought of. Furthermore, over 10,000 companies will benefit from the digitally enabled free trade zone by 2025; the concept has been identified and recognized in Sri Lanka's Digital Economy Strategy.
Digitally connecting private firms to global value chain is an important aspect described in the Sri Lanka's Digital Economy Strategy. This policy and action based document focuses more on small and medium sector entrepreneurs," he said.
He noted that digital and financial literacy should also go hand in hand to create multiple benefits especially to empower citizens to reap the benefits of rapidly advancing technologies.
He said that the consumer in the digital age is highly vulnerable and hence it is the duty of the government to safeguard and help them enjoy e-commerce without constraints.
"I think our strategies, programs and projects should be focused on to that specific objective .Furthermore, the government too has the right to be vigilant on behavior of both consumers and suppliers and to prevent any undue incidents that may create disadvantages to the trust associated with online businesses.
Furthermore, the Ministry has taken steps to provide number legal enablers for digital processes by way of ensuring the protection of critical information infrastructure.
"We are in the process of introducing e-commerce facilitation measures through direct and indirect engagements. We have a number of partners such as the Ministry of Finance, Sri Lanka Customs, The Central Bank of Sri Lanka, Commerce Department, Export Development Board and Lanka clear and so on. We also recognize all types of businesses in digital domain despite their size, origin and SMEs, startups and freelancers are not left behind," he said.
Furthermore, an online platform will be launched soon to enable their registration for formal visibility and active engagement with all stakeholders.
Source by :
www.dailynews.lk