Public and private sector collaborate with ICTA to Uplift Technology Education in Regions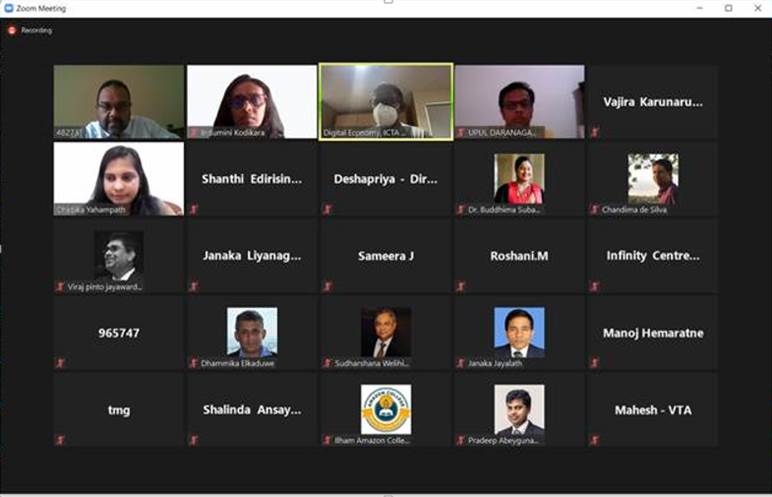 Lack of awareness, non-availability of required resources has hindered the technological education in regions.  Speaking at a forum organized by Information & Communication Technology of Sri Lanka (ICTA), with private educational institutes and vocational training center officials, Mr. Anura De Alwis, Chief Digital Economy Officer of ICTA, emphasized the importance of bring in more students to the technology workforce. The private educational institutes are mostly concentrated to western province and are in the main cities, where children will have to travel to attend them. Further he mentioned the importance of building more tech savvy professionals and how it positively affects the economy.
Contribution to the Digital economy can be achieved by methodical technology diffusion, capacity building, supporting the industry development and support growth of the startups. Hence to achieve the above objectives ICTA is moving to the regions and setting up Regional Clusters. A cluster will consist of technology diffusion cells, incubators, R&D and innovation labs, decentralized companies in regions, knowledge and support hubs, a suitable ecosystem for startup growth, tech educational institutes and a massive capacity building program. Career guidance and development of soft skills of students is a major part of this initiative.
From a planned series of forums, this is the first forum held by ICTA, with a group of private and vocational training institutes. Twenty four institutions attended the forum which was conducted virtually. There will be more forums held with government universities and other educational / training providers during the coming months, said the Director, Regional Cluster Development. The main focus was to identify the stakeholders' requirements, challenges in establishing their presence in regions, and what they expect as government intervention.
Representatives of the IT education institutions stated that, "Rural areas in Sri Lanka usually been characterized by limited infrastructure and favorable eco system has not been created so far for IT education. Due to unavailability of required career opportunities and IT education institutions in rural areas, the rural-urban migration has become a burning issue. Qualified people cannot be found in most of the regions to recruit as staff members even for few institutions operating in the village level. Centralization of IT companies has not created a favorable environment for universities and training institutions to set up operations in those areas.
On the other hand, there is a general challenge across the country on limited capacity for training. Associated with this, there are challenges in relation to quality delivery and relevance of curriculum, teaching methodologies and monitoring and evaluation. This leads graduates to have gaps in both technical and soft skills. Students tend to select IT as their least priority. This perception should be changed through national level awareness campaign"
The awareness, capacity building and adoption plays a major role in this evdavour. ICTA is planning to set the necessary ecosystem in place by means of facilitating to increase the numbers to join the work force to fill the supply demand gap. ICTA will partner with all stakeholders in moving forward to the regions to create the required workforce. As government, ICTA will look at student loan schemes, any other concessions and what benefits can be provided for the Institutes moving into the regions.
Wrapping up the session Ms. Indumini Kodikara, Director Regional Cluster Development of ICTA said that "we will join hands together to identify the regional talent and guide them to move forward contributing the tech workforce". The development of regional clusters will contribute to the growth of the digital economy of the country.