Vision 2024 for ICTA: A digitally transformed Sri Lanka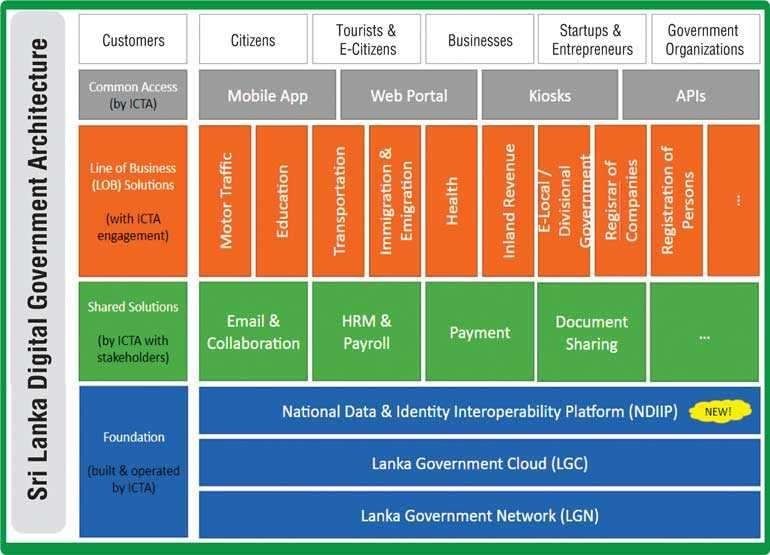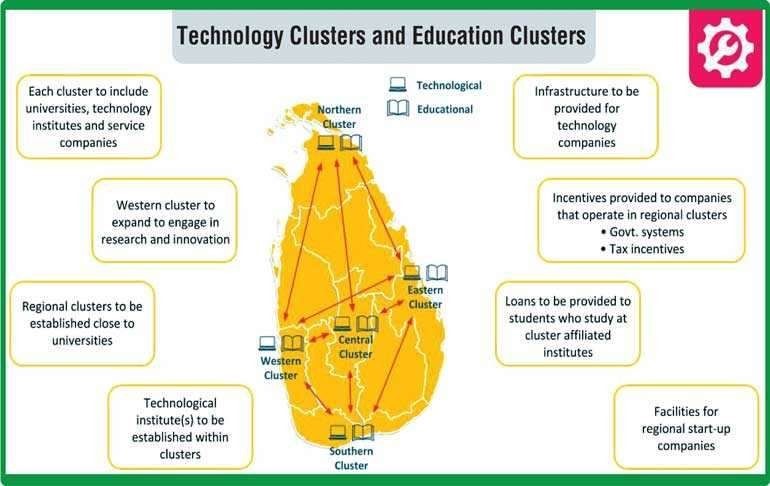 The aim of creating a digital ideology for Sri Lanka has at its roots the empowerment of its people. The object of this exercise is to develop an indispensable medium where individuals can live out their relations, according to a social structure which encourages novel ideas, norms and values.
A medium that would help us understand how we can localise and culturally fine- tune our systems and government into affecting lives positively. Done well, a digital ideology can inspire our society to become more efficient and results- oriented, building connected communities with new skills and better control over their lives.
Until now, integrated digitalisation was a distant reality for Sri Lanka. The pandemic and the subsequent lockdown made it all too clear to everyone that there is an urgent need for us to make a fundamental change by taking serious
steps to move the country in this direction.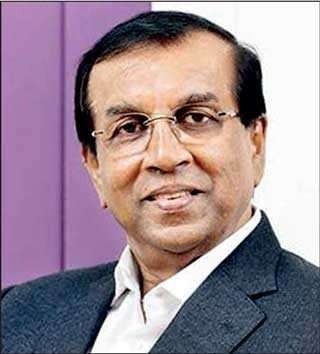 Chairman Jayantha De Silva
The current administration has charged the Information and Communication Technology Agency of Sri Lanka (ICTA) with implementing a detailed road map in line with President Gotabaya Rajapaksa's vision to establish a digitally inclusive Sri Lanka, with a citizen-centric digital government for the convenience of every Sri Lankan.
The ICTA Board appointed to handle the digital transformation includes experts from different fields. Jayantha De Silva – Chairman of the board has over 30 years of experience in the IT industry with extensive exposure in national policy-making and strategies for knowledge services, with hands-on experience in large projects globally.
Other members of the board include Prof. Lalith Gamage, Vice Chancellor and CEO of the Sri Lanka Institute of Information Technology (SLIIT) and the chief architect of establishing it in 1999; Mano Sekaram a Tech Entrepreneur and Chief Executive Officer (CEO) and Co-Founder of 99X Technology Ltd., who is also the founder of Startup X Foundry, Sri Lanka's first Tech Startup accelerator; Reshan Dewapura, Chief Executive Officer at GSS International Ltd., one of the fastest growing BPO operations in Sri Lanka with 33 years of experience in the ICT agency; Wasantha Deshapriya, a former Secretary to the Ministry of Telecommunication and Digital Infrastructure with over 35 years of public sector experience; Vimukthi Janadara, Director General, Information Technology Management Dept. of the Ministry of Finance and representatives from the Treasury.
The assigned ICTA Board put in place a plan on the eve of the COVID-19 lockdown to ensure the nation's digital transformation within a five-year period. While the five-year strategy is multi-pronged, the ICT Agency is working on key areas that are vital in
achieving the government's goal. Their current concentration is on designing, planning and implementing the country's digital government and establishing a digital economy supported by digital policy and cyber laws.
Digital government, which makes up a large part of the ICT Agency's mandate, would empower citizens of Sri Lanka, allowing easy access to information that would help them in decision making, ensure participation in governance at various levels, allow automated services for public welfare and streamline government functions while ensuring transparency.
It will also be the catalyst that drives Sri Lanka's digital economy, which will facilitate industry expansion and increased foreign direct investment, while creating opportunity for startup innovation and entrepreneurship through capacity building and tech diffusion. Preferred business and employment opportunities would open up for local companies and the country's technology industry would move steadily towards the goal of becoming a $ 3 billion export earner by 2024.
Digital government
One of ICTA's key directives, digital government, is the transformation process of state organisations, to make them more efficient, cost effective, profitable and sustainable. The digital transformation, which is being planned and will be executed by ICTA, would increase the adaptability and connectivity of state entities, helping them to easily integrate with other systems.
The agency has already drawn up the digital governance architecture, which has several layers i.e. foundation, shared solutions, Line Of Business solutions, common access and users. While the Foundation layer is the ICT Agency's sole responsibility, they will work with various partners in implementing other layers. The foundation layer is now in process with the setup of the Lanka Government network and the Lanka Government Cloud where solutions for all state organisations would be stored. The Agency is now developing the National Data and Identity Interoperability Platform (NDIIP), which will complete the foundation layer of digital governance.
Once the NDIIP is developed, state organisations will be able to collaborate and share key information to carry out their functions. For example, someone needing an identity card or passport in the current scenario, has to go to several government institutions i.e. the 'gramasevaka', passport office, registrar's office, back to the gramasevaka, etc., to get the job done. With NDIIP, the issuing department would be able to access all relevant information, even data owned by other state departments to handle the task at hand.
The NDIIP helps to digitally establish and validate the identity of persons. For example, if a citizen wants a driver's licence, the application is filled online and the relevant government organisation will access all necessary data to confirm the applicant's identity and eligibility i.e. birth, health and other information from the relevant organisations, to process the application.
Shared Solutions is the next layer in ICTA's digital transformation strategy and it covers all the solutions used by most state organisations for their day-to-day operations, such as email collaboration, payroll, human resources management and payments. While the agency will design and develop some of these solutions, they will also use different service providers.  The Line of Business (LOB) solutions layer is another key area in digital government that deals with government processes. ICTA will initially select ten to twelve areas to spearhead high impact projects, to execute on a turnkey basis. While the design and architecture of these projects will be the agency's responsibility they will outsource development, implementation and maintenance.
In selecting partners to develop shared and LOB solutions, the ICT agency plans to work with local private companies instead of engaging foreign partners. They will encourage Sri Lankan companies to develop solutions for motor traffic, education, transportation, health and other sectors. In the event local expertise and capacity is not available within
one entity, ICTA says they will encourage local enterprises to form consortiums to bid for developing solutions for the agency. ICTA will give priority to consortiums who work with startups and regional companies.
Once these solutions are developed by local organisations, they can be packaged, productised and sold overseas, similar to the solution developed by a Sri Lankan company for the Colombo Stock Exchange. The company replicated and sold it to several stock exchanges across the world, including the London Stock Exchange. This is a model ICTA will emulate, to open up new opportunities for software companies which will have a tremendous impact on the local economy.
ICTA's vision is to deliver digital governance services to every citizen, and this is where the common access layer will play a role. It will be the interface between users and services provided via different solutions. For citizens who do not own a computer or are not tech savvy, kiosks and communication centres will be set up in villages to assist them.
Digital economy
Today, Sri Lanka's technology industry depends heavily on business process outsourcing and customised software development. In the transformation into a digital economy, ICTA will look at moving the industry towards high-end product engineering and IP creation through innovation and startup initiatives. This will help the tech industry to expand and speed up, increase its current exports and attract foreign direct investment.
The agency has put in place a cluster strategy to take technology to the regions. The ICT agency is of the view that the setting up of regional clusters is a great way to develop the regions. Plans are already underway to form five technology, research and development and education clusters in the North, South, East, West and central parts of the island and each cluster will have the support of assigned universities, technology institutes and service companies. Regional clusters are to be established close to universities and loans will be made available to students who study at cluster affiliated institutes. Technology companies would receive infrastructure support while regional start-up companies would be provided with necessary facilities and incentives to partner and promote innovation.
With regional clusters ICTA will encourage the mobility of people, for example people from the north to come to Colombo or from Kandy to Jaffna and vice versa, so that they get exposure that would benefit the clusters and increase social integration.
Tech diffusion and capacity building
Another key aspect of ICTA's digital economic strategy is technology diffusion. The development of any industry, even non tech ones such as farming, agriculture, rubber tapping or any other, depends predominantly on modern methods and technology. Old systems usually lead to inefficiency and waste while competitiveness of these industries can be increased through technology. The agency will identify actual problems within the regions and bring in the right technology to solve them via the cluster cells. If the technology is not locally available, they plan to transfer it from other countries.
Once technology is developed, it will be up to startup companies to commercialise it. ICTA will ensure that the startups they work with have the right technology to be on a level to compete in the international market i.e. have electronic trading capability, integrated supply chains, etc. The agency plans to provide 750 SMEs with the necessary technology by the target date.
Capacity building is key in achieving this goal and the ICT agency is taking steps to build an empowered workforce who can join the industry at multiple levels. The capacity building division of the agency will ensure the competency and employability of the workforce through programmes such as vocational training, foundation and conversion programmes and social education, apart from the traditional tertiary, higher, professional and postgraduate education. Social education will also play a key role in developing intelligent citizens with the skills to use citizen services.
Digital law and reforms
The ICT Agency (ICTA) leads digital law and reforms initiatives in the country, key amongst them being the implementation of the Electronic Transactions Act, supporting the formulation of the Payment and Settlements Legislation and Cybercrime Legislation. With the establishment of Sri Lanka CERT, they provided institutional support to help mitigate Cyber threats and incidents in the country. It was ICTA who led Sri Lanka's entry into the Budapest Cybercrime Convention and the UN Electronic Communications Convention, which allowed the adoption of international best practices in the country.
What will be a priority for ICTA, as a future strategy, is the adoption of the already formulated Draft Data Protection Bill, and the creation of the necessary institutional frameworks and capacity building. The proposed CyberSecurity bill is another key activity undertaken by ICTA that would enable the country to more effectively safeguard its digital ecosystem, enhancing the way we mitigate and respond to cyber security threats and incidents.
A digitally transformed nation
The ICT agency who has already put in place a fully functional infrastructure is confident that it will be in full use by all state organisations by the target date and that the
interoperability framework would be wholly adapted. ICTA's vision is to see 300,000 IT professionals, 500 digitally empowered government CIOs contributing to, and operating their digital infrastructure, while high levels of public sector and citizen literacy rates are achieved. The agency targets significant usage of shared solutions and digital services by 2024, which would vastly benefit citizens of Sri Lanka.
From an industry perspective, Sri Lanka will enter the third wave of technology during the digital transformation, with 750 tech companies, 1000 IT and IT infused startups and 500 other technology startups in place by 2024. ICTA believes that this expansion and technology innovation would enable the industry to reach the 3 Billion USD export revenue earner mark.
This would have a significant impact on Sri Lanka's competitiveness ranking. Harvard University and the World Economic Forum, take into account various parameters including ease of doing business, technology infusion, literacy etc., to decide the most competitive countries in the world. It is a highly desirable ranking and with ICTA's plans for a digitally transformed nation well on its way, they will increase the island's current ranking by at least 30 positions during the next four years.
Whilst ICTA spearheads this transformation, the end objective is to create an ideology that believes in a digital ecosystem which will be holistic in its approach and open to the development of novel ideas and concepts. It is this ideology that will mesh with systems to foster structural relationships at all levels of society, and across all forms of government.